Vigorous EA is a trading solution that has a simple and mediocre informative presentation. The robot belongs to the Responsible Forex Trading brand. The presentation could be written better but the devs keep it in this version. They claimed "The Vigorous EA is one of our best EA's! It has been successfully backtested on 21 years of data. It scalps the EURUSD pair up to 100 times a week and makes a profit EVERY day! If you're looking for an EA that makes a consistent profit every day, this is it!" It's time to figure out if it's true.
Is Vigorous EA good?
We can't be 100% sure if it's good or bad. The system provides an average monthly gain of less than 2%. It's not so much. If something happens it will be recovering for years.
Features of Vigorous EA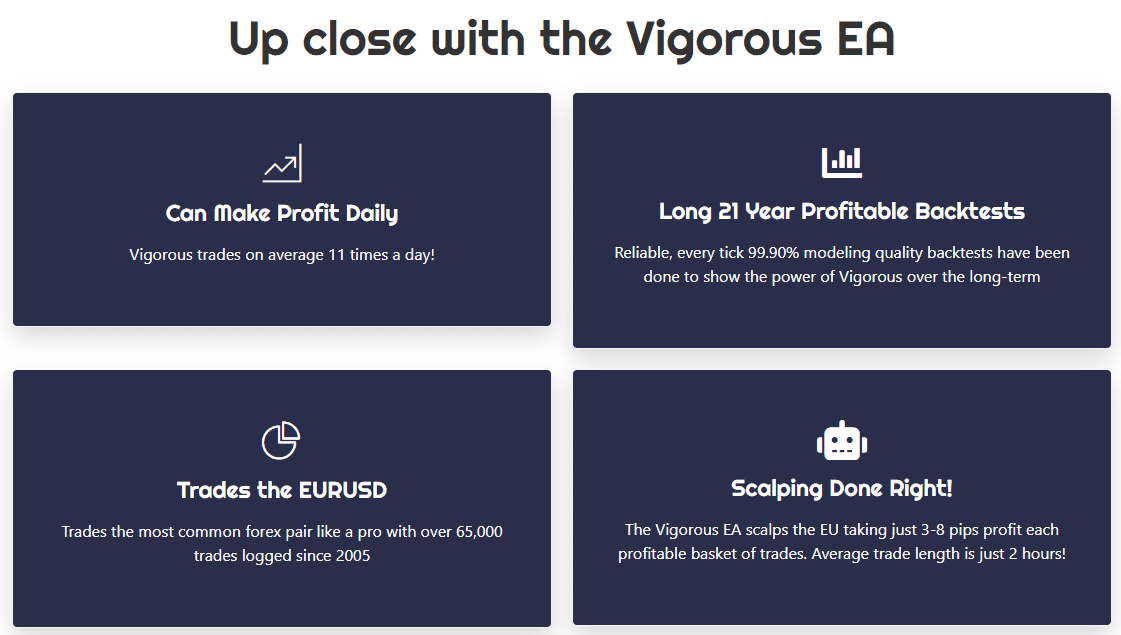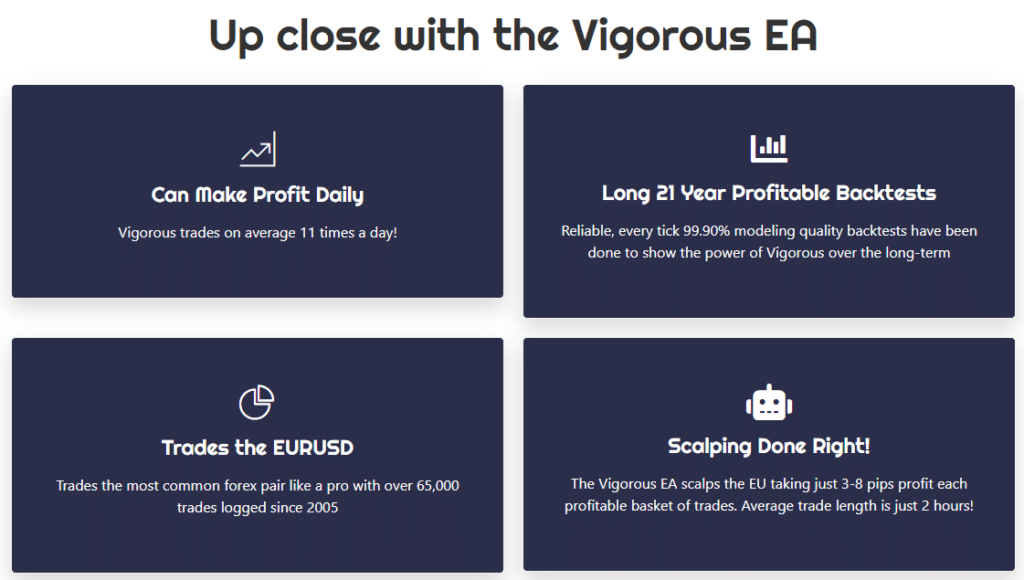 The system has some explanations provided about how it functions on the real account. We grouped them in the following list.
The advisor knows how to execute orders automatically for us.
The robot trading frequency is 11 deals daily.
The advisor works on the high time frame but should be tested on the low time frames only.
It executes a Grid of orders strategy.
We are allowed to trade EURUSD.
The backtest should be run on the maximum data quality – 99.99%.
The system works with 2-8 pip take profits.
The advisor closes orders within several hours.


We have information that the system has won five months in a row.
There were 212 copies sold.
We can expect that an average monthly profit is 1.56% with default settings.
The recommended deposit should be higher than $5000.
The leverage can be 1:200.
The expected trading frequency is from 50 to up to 100 deals closed weekly.
| | |
| --- | --- |
| Trading Terminals | MT4 |
| Strategy | Grid |
| Timeframe | N/A |
| Price | $247, $594 |
| Money Refund | N/A |
| Recommended Deposit | From $5000 |
| Recommended Leverage | 1:200 or higher |
| Money Management | Yes |
| Customer Reviews | N/A |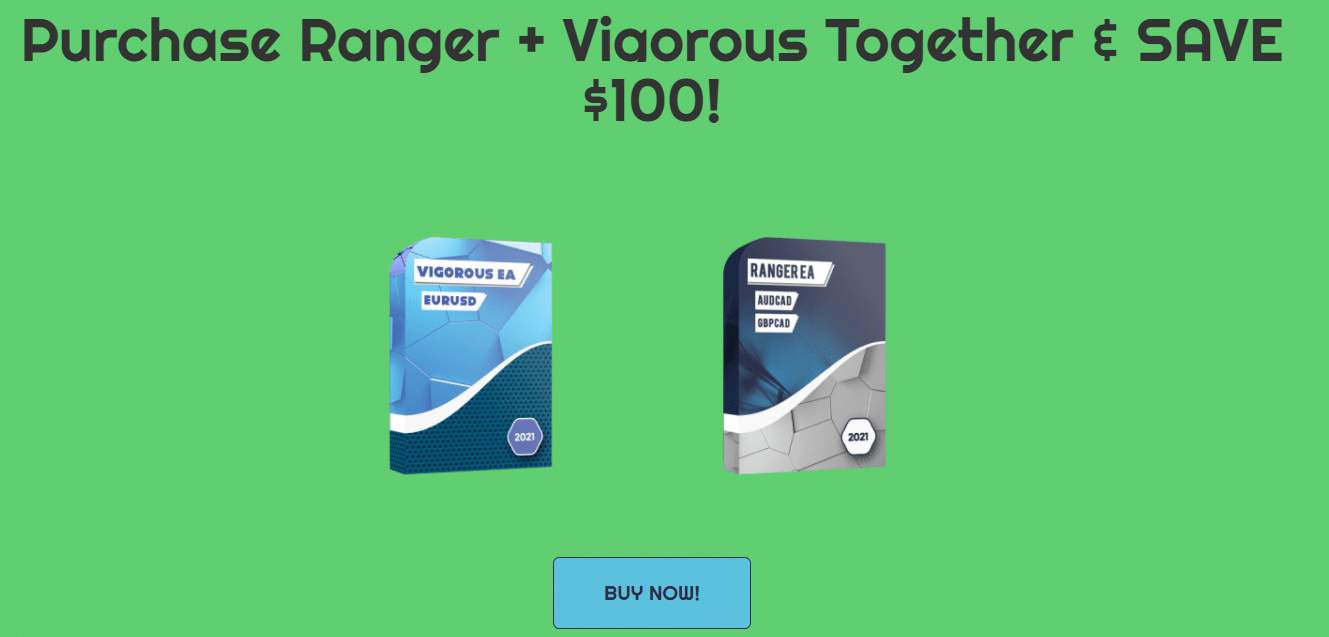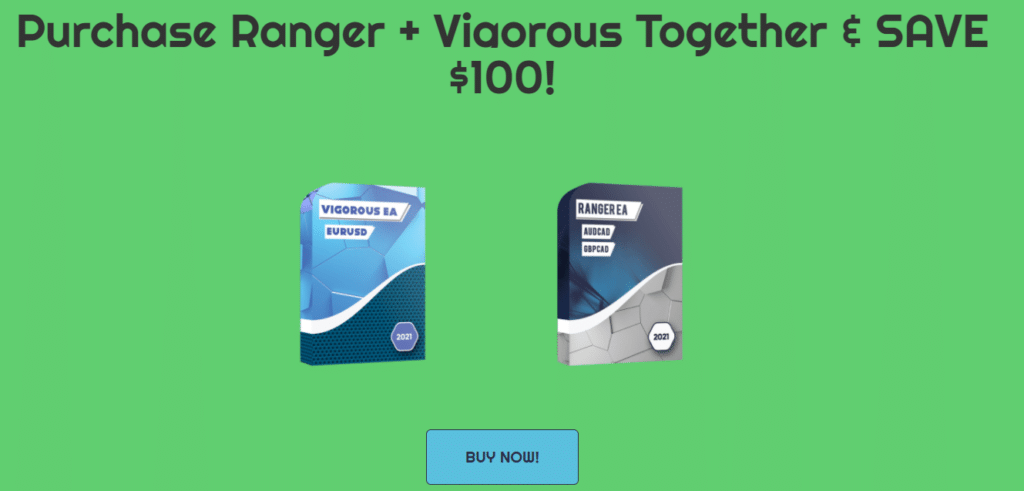 We can buy two systems in a single package for $594.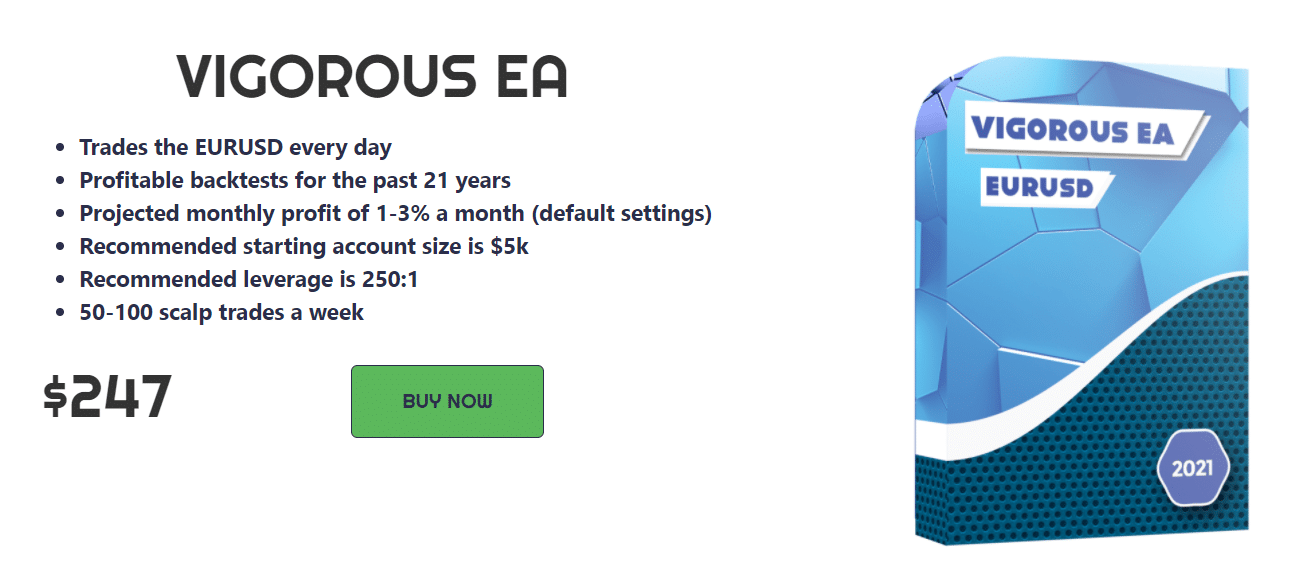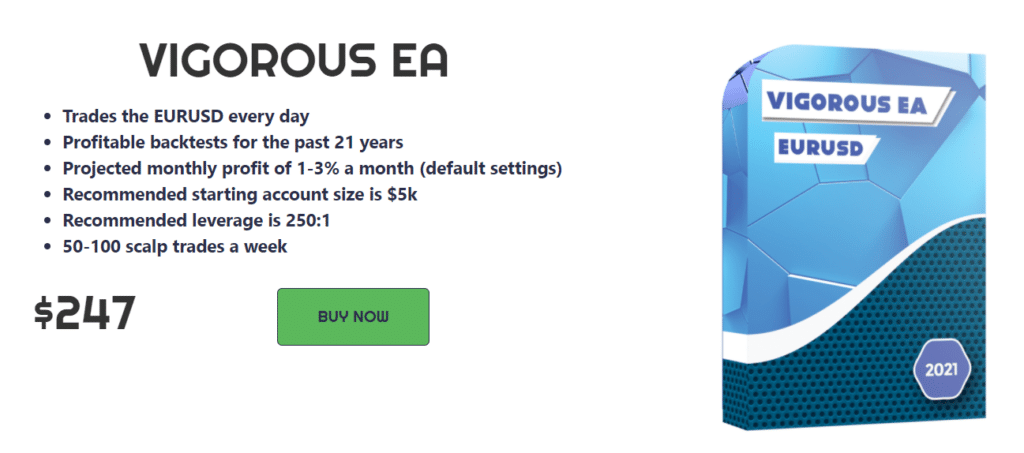 The system is sold for $247 for a single real account copy. We remember that there was a $397 price. We can rely on a single real account license and one demo account license. The devs don't support the offer with a refund policy.
What strategy does Vigorous EA use?
The system uses two strategies – Grid and Scalping.
It can be used in EURUSD.
The possible time frames are M1 – H4.
Backtesting vs live trading results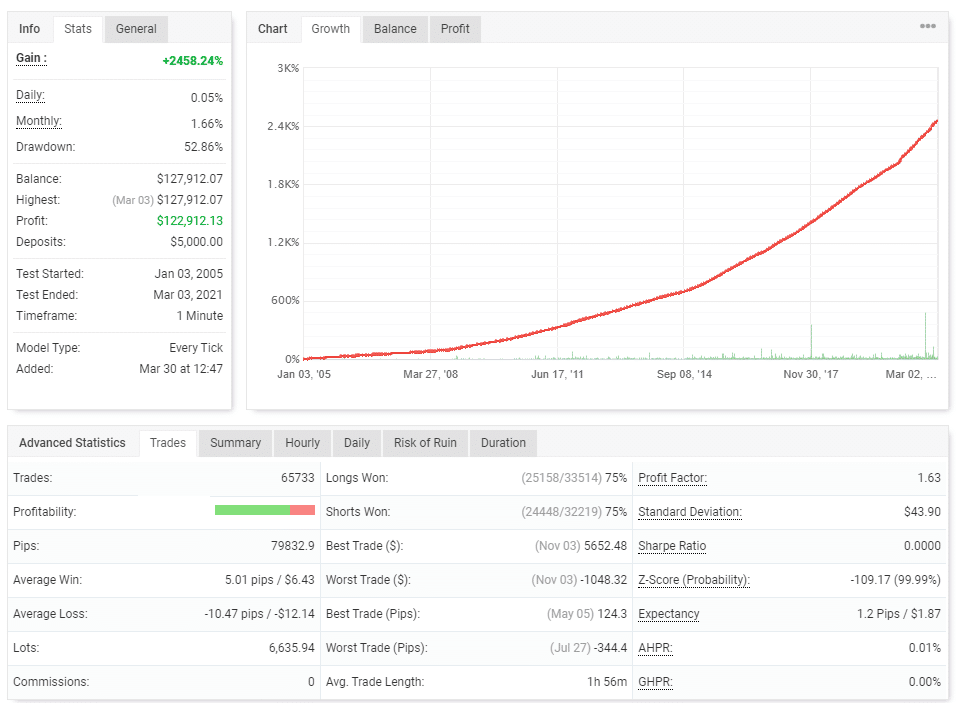 We have a backtest of EURUSD uploaded on Myfxbook. The data period was 16-year. The absolute gain has become 2,458.24%. An average monthly gain has amounted to 1.66%. The maximum drawdown was sky-high – 52.86%. There were 65,733 deals with 79,832 pips executed. An average win was 5.01 pips when an average loss was -10.47 pips. The win rate was 75% in both directions. The average trade length was almost two hours. The profit factor was 1.63.


The system was tested with low risks.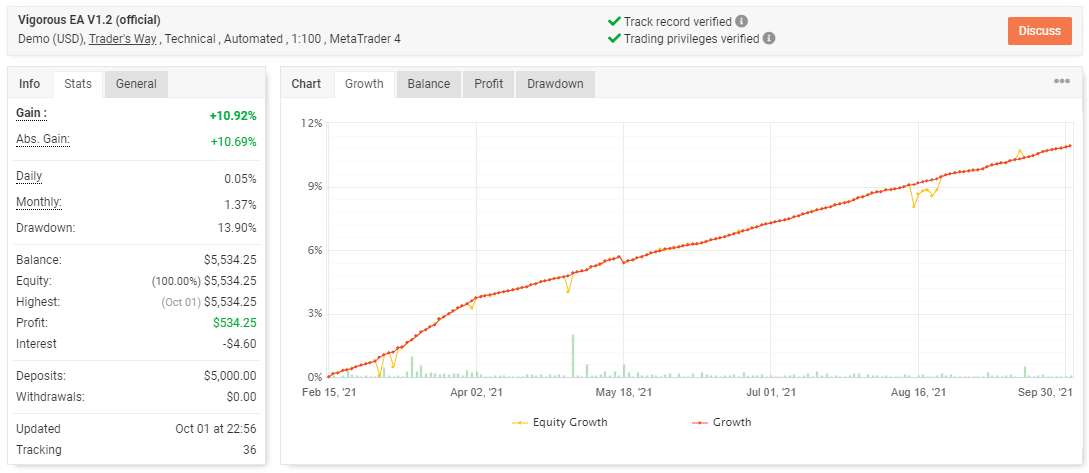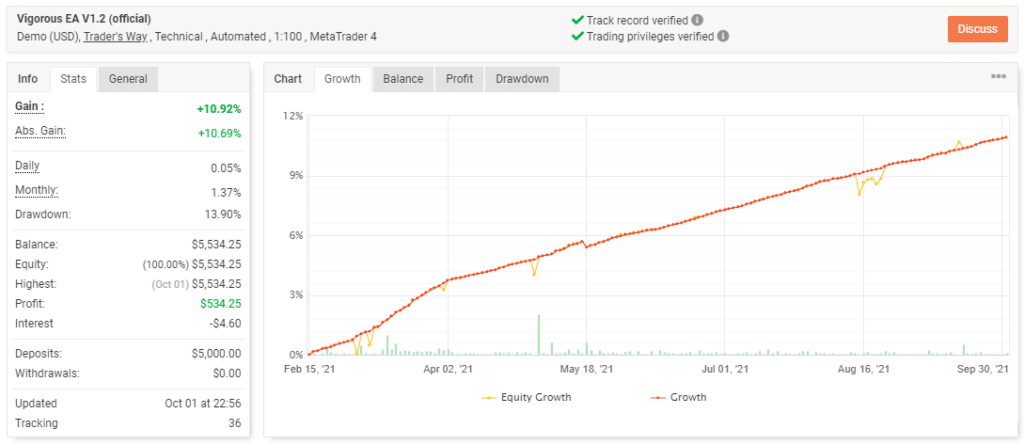 Trading results are a positive sign that the system works on the current market and knows how to handle it. It has been running a demo account on the Trader's Way broker automatically. The account has a verified track record and verified trading privileges. The account was set on February 15, 2021, and funded at $5,000. The absolute gain is 10.92%. An average monthly gain is 1.37%. The maximum drawdown is 13.90%.

We've got statistics details. The advisor has traded 1967 orders with 1373 pips. An average win is 4.76 pips when an average loss is -10.32 pips. An average trade length is almost five hours. The profit factor is 1.61.


EURUSD is the only focused pair, with 1943 orders and $511.75.


The robot trades during the European trading session mostly.


It opens orders on all days.


The risks of losing even 10% of the account are low.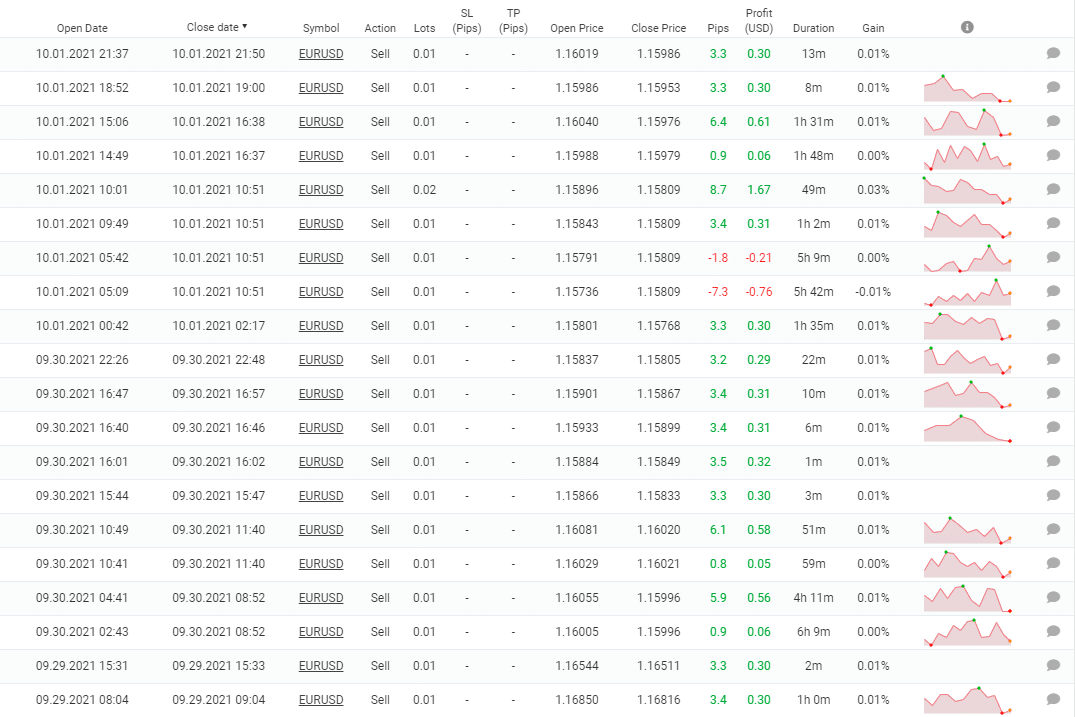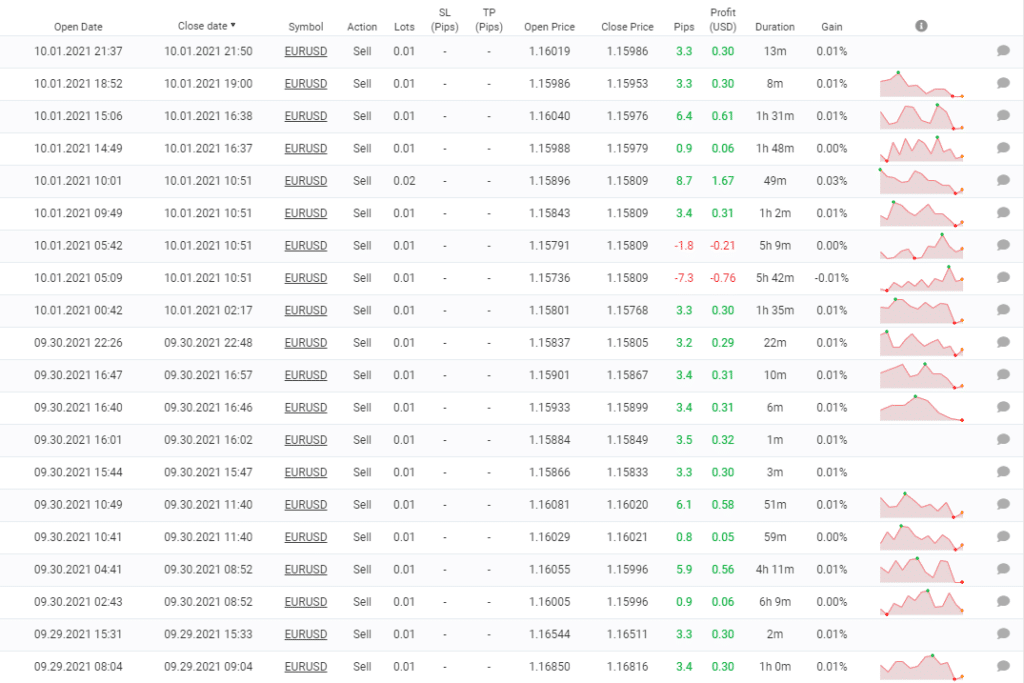 We may note that their SL and TP levels aren't revealed. It means that the system has a broker protection module.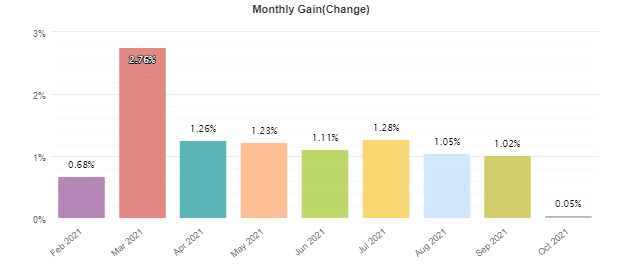 The advisor can provide only low monthly profits.
The core team
We have no extra info about the team. They decided not to publish information about their social network profiles that could help identify them. We don't know even if they have experience in trading.