3Commas is a robot that can provide its owner with possibilities of being profitable on the crypto market. The developers provide us with various explanations about how the system is going to function. So, let's take a closer look at this trading tool to decide whether it is a good bet for traders.
3Commas overview
3Commas has various features that can be useful for us to work on a crypto market.
It performs orders completely automatically.
Traders can work with it through an application.
The bot gives us data about the following market details: performance and trading statistics, launch of other bots, and close orders manually.
Traders are allowed to rebalance our portfolio for better performance.
Users have a dashboard that helps users to be in touch with current market conditions.
The robot has a paper trading feature that let us test the system on the past data.
The system can be profitable even on high volatile market.
The advisor can provide us with trading options.
It is also possible to subscribe for the signals that are provided by the other traders.
Does 3Commas work?
There is not much information about the system's details provided. If the bot handles a highly volatile market, it can work with a trend strategy. So, the system has to spot a trend and trade in the market direction.
Brand: ease of accessibility
The system is an easy to use solution. It doesn't require us to have proper trading experience. Traders need only download the system and customize it according to their trading needs. After generating API keys, you can set it to trade on your account.
What exchanges does 3Commas integrate with?
3Commas works with the following exchanges:
Gemini
Binance
Binance US
FTX
FTX US
BYBIT
Bitstamp
Bitfinex
Gateio
Coinbase Pro
Kraken
Deribit
Poloniex
BitMEX
Crypto.com
OKX
KuCoin
Bittrex
Huobi
Strategy: unclear
There is no info about the trading approach provided. It is only possible to consider that it is trend trading behind.
3Commas interface
There's a welcome user interface with a dashboard applied.
3Commas company overview
The main team members are: Yuriy Sorokin (CEO), Mike Goryunov (CMO), Egor Razumovsky (CTO), Katie Campisano (Head of Communications), and Artem Koltsov (Tech Lead).
Time in business
The company was created in 2017. It is located in Laeva 2, Tallinn, Estonia, 10111. 3Commas has a representative office in Canade: 20th floor, 250 Howe Street, Vancouver, BC V6C 3R8.
Security, community, reputation
The robot works with the market through API keys. It can open, close, and manage orders for us. Anyway, it can't withdraw our account.
Pricing details
The developers provide us with a free package for comfortable start with 3Commas. Users can rely on: one GRID Bot, one Options Bot, and one DCA Bot. The subscription price is $14.5 monthly. Traders can try one Active SmartTrade, unlimited Scalper Terminal, Paper Trading. The Pro pack can be bought for $49.5 monthly. It includes no limitations. You can trade on 18 exchanges. Alas, none of the offers include a refund policy.
Are there any fees or commissions with 3Commas?
No, there are any. The developers don't charge us for extra fees.
Does 3Commas have an API?
Yes, 3Commas has an API.
3Commas: performance metrics
It's hard to tell if the system is profitable. Even developers claimed nothing about how much we can get monthly.
What kind of support options does 3Commas offer?
The developers provide support via Discord, Twitter, and Telegram.
Reviews of 3Commas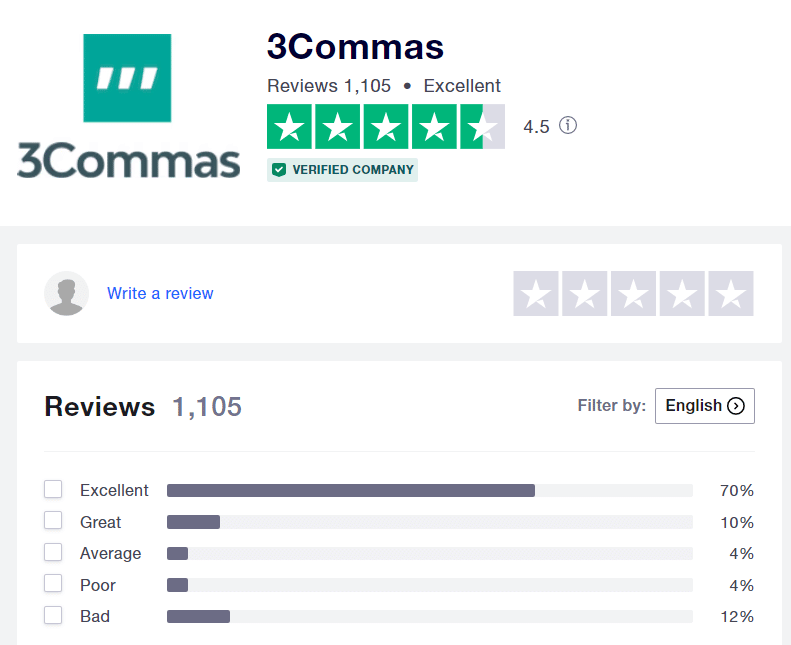 3Commas has a profile on Trustpilot created. We can find 1105 reviews there that formed a 4.5 rate.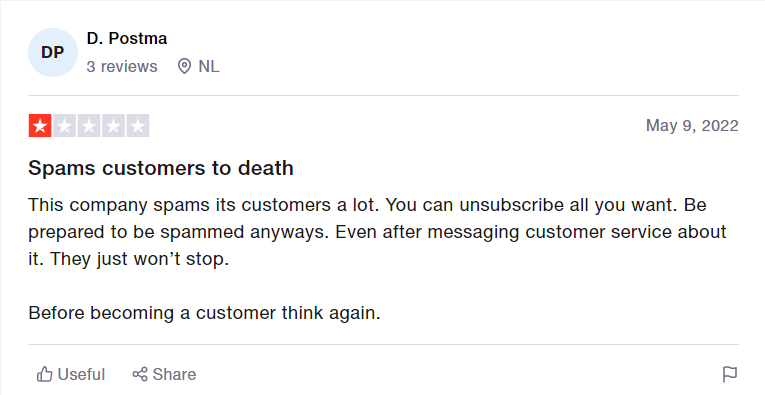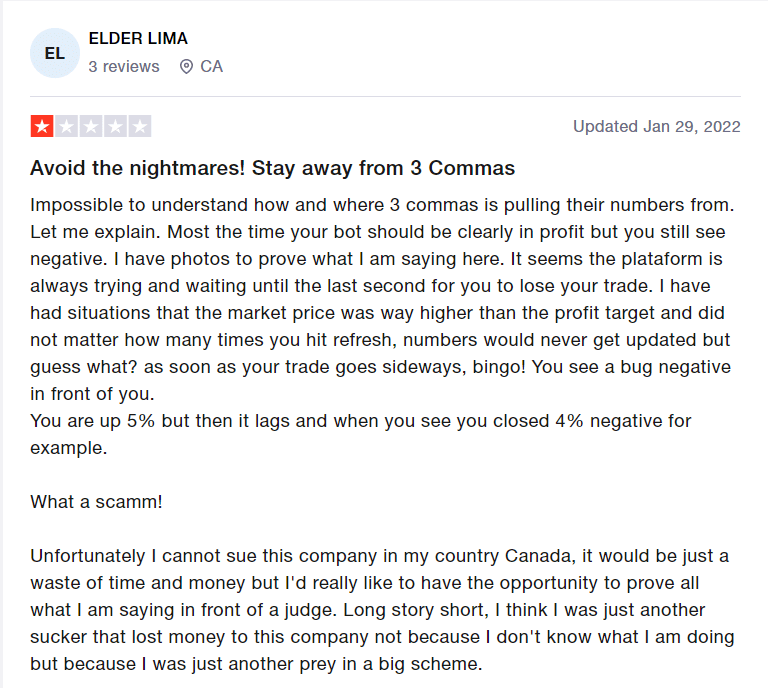 Although 70% of reviews are positive, there are those that warned us that the system is not reliable because of its low profitability and support that is far from being great.