Imagine a situation where every meme coin is gaining, and you have invested plenty of bucks in them? The situation you were in a moment ago is what we can say is an altcoin season. Thus, the altcoin season index is when crypto coins other than BTC see a price rise. Let's talk about the altcoin season index and how you can get the most out of it.
What is the altcoin season index?
Alternative coins, such as ETH, Cardano, DogeCoin, Ripple, and others, define what altcoins are all about. Due to BTC's market cap, which controls about half of the global crypto market, the altcoin is used to distinguish it from other crypto assets.
Altcoin season, also known as alt season, is when alternative cryptos' market performance improves owing to higher prices and trade volumes.


Due to the altcoin season, BTC has lost its dominance in the crypto market. In other words, its market cap declines compared to other cryptos. This market cap statistic indicates the size of crypto and is calculated by multiplying the asset's price by the coin's circulating supply.
What is the reason behind the altcoin season?
It's hard to say with certainty what causes the altcoin season. However, it is widely assumed that investors will sell part of their BTC to recoup their losses following a BTC bull run. They buy altcoins with part of their gains after selling some BTC, which might naturally cause the prices of other altcoins to rise.
The Dogecoin drama we saw with Elon Musk's tweet and the continuing NFT fever are other driving elements for an altcoin season. So, it's difficult to analyze or predict the factors behind the season.
How to measure this season?
The altcoin season index tracks whether market sentiment points towards BTC or altcoins. If 75% of the top 50 coins performed better than BTC over the last season (90 days), then the index deems it to be alt season.
Below you can find an altcoin season index chart. As you can see from the chart, we are not having an altcoin season currently. And you can see that January 2022 was a BTC season.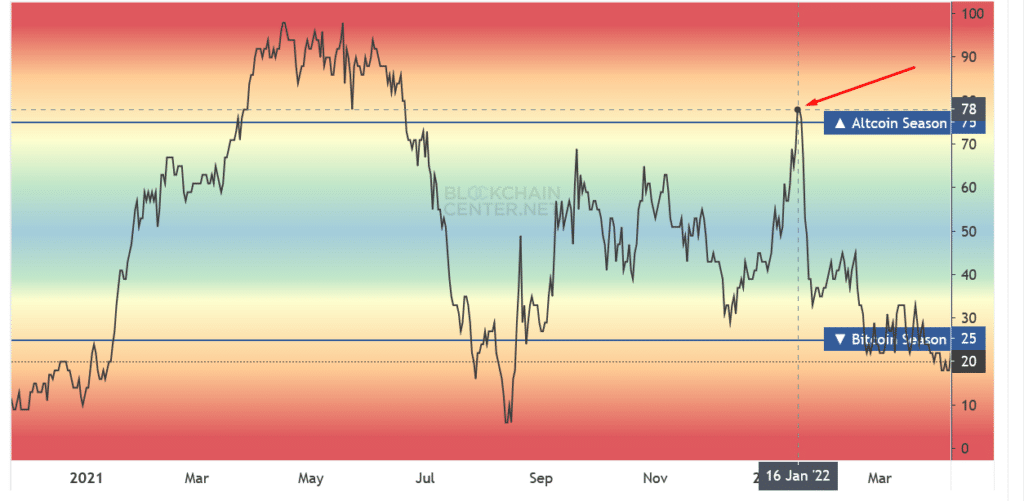 Market analysts confirm that the crypto season is following the altcoin index chart signals. However, based on the index tool, we still have no idea when altcoin season 2022 will occur.
What are some of the best altcoins to buy right now?
If you've been following the crypto landscape, some may have heard about ETH, XRP, and DOGE. These are three instances of altcoins that have gotten a lot of attention during the previous years.
These cryptos typically experience wild upward moves in days during an alt season. Those who get in early can take advantage of this rapid profit by buying the coins at far lower prices than usual and selling them for an enormous profit when it's most popular.
Other altcoins to look for in 2022 are:
What's the right time to enter this season?
When is the best time to invest in altcoins? Unfortunately, there is no good moment to buy or a good time to sell altcoins. We'll never truly know how long the altcoin season will go or when it will finish because of the volatile crypto market.
If you're looking for some cool bucks with altcoins, you can keep an eye on the price of each one you wish to acquire. You may also keep track of it by using technical analysis and applying technical indicators and the altcoin season index chart.
How to take advantage of this season?
The altcoin season provides you with many fruitful opportunities. However, crypto markets are rife with unpredictability. Therefore, you should concentrate on currencies proved to outperform.
Here is how you can take advantage of the altcoin season:
Buy the dip
There will be a fall just before the market takes off, so buy your altcoins when the prices are low and wait for them to rise again.
Predict through analysis
If an altcoin has a significant advantage over the market and you can analyze how long it will take to rise, acquire it when the price is low. If you execute it right, you may increase your earnings by 10 to 30%.
Apply technical indicators
You can use technical indicators to assess certain elements of an altcoin's performance, such as volatility. You can use this info to forecast how much it will rise or fall throughout the altcoin season.
Switch to parabolic altcoins
Some altcoins produce a parabolic curve during their altcoin season, and they tend to perform 10% better than other coins.
Pros & cons
| | |
| --- | --- |
| Pros | Cons |
| This season provides a great opportunity for you to acquire many cryptos with significant medium and long-term potential. | It would help if you also kept in mind that while altcoin season provides a lot of profit potential, they also come with a more significant risk than Bitcoin. |
| The various crypto initiatives that pop up during the altcoin season have a lot of potential. | Altcoins' value might plummet in a matter of days. |
| The altcoin season is a great time to diversify your investment portfolio. | You are prone to fall prey to a scam. |
Final thoughts
The altcoin season index is an essential gauge of the crypto market. It's the time when you hop on other cryptos train other than BTC. If you are patient and take your time, you will likely see a significantly more growth percentage. However, don't expect to get wealthy overnight. If you stay up on crypto news, you should be able to take advantage of the index.