Excelsior is a Forex expert advisor that is sold on the MQL5 website. Launched on September 5, 2020, this robot is compatible with the MT4/MT5 trading platform. The current price of this robot is $385, which is pretty close to the average market price. Although there is a free demo version available for download, the vendor does not offer a money-back guarantee.
Is Excelsior good?
This is a robot that is affordable and has a low minimum deposit. However, the vendor has not shared the verified live trading statistics. There is not much information on the developer and the vendor does not offer refunds to unsatisfied customers.
Features of Excelsior
You can use this robot to trade in pairs like AUD/USD, EUR/USD, GBP/CHF, GBP/USD, NZD/USD, USD/CAD, USD/JPY, and USD/CHF. The vendor recommends running the EA on a VPS. To get started, you need a minimum deposit of $250 and a lot size of 0.01. However, the vendor recommends starting with $1000 and a lot size of 0.02.
The advisor can trade with default settings. Since it is based on neural networks, it is capable of working with different brokers and account types. From the EA settings, you can adjust various parameters like the trading volume, stop loss, and the number of days after which a losing trade should be closed.
| | |
| --- | --- |
| Trading Terminals | MT4, MT5 |
| Strategy | Neural network |
| Timeframe | Any |
| Price | $385 |
| Money Refund | No |
| Recommended Deposit | $1000 |
| Recommended Leverage | 1:40 |
| Money Management | No |
| Customer Reviews | N/A |
What strategy does Excelsior use?
This robot uses two independent recurrent neural networks to calculate long and short signals. It opens trades with the comment exc-weekly where there is a weekly signal. When there is a valid daily signal, it initiates trades with the comment exc-daily. Excelsior closes trades or sets a stop loss at the starting price when the current trend shifts. The initial stop loss is indicative and is set for internal calculations.
Backtesting vs live trading results
Here we have the results for a backtest conducted from 2018 to 2021 through the AlfaForex broker. The EA used default settings for conducting this historical test. It used an initial deposit of $1000 to place 809 trades.
In the screenshots shared on MQL5, we are not able to see the combined profitability, however, 96.22% of short trades and 96.36% of long trade were won. This tells us that the EA was quite profitable during the backtest. It generated a total profit of $31607209.44 while maintaining a high profit factor of 243.70. The relative equity drawdown of 17.54% was within the acceptable margin.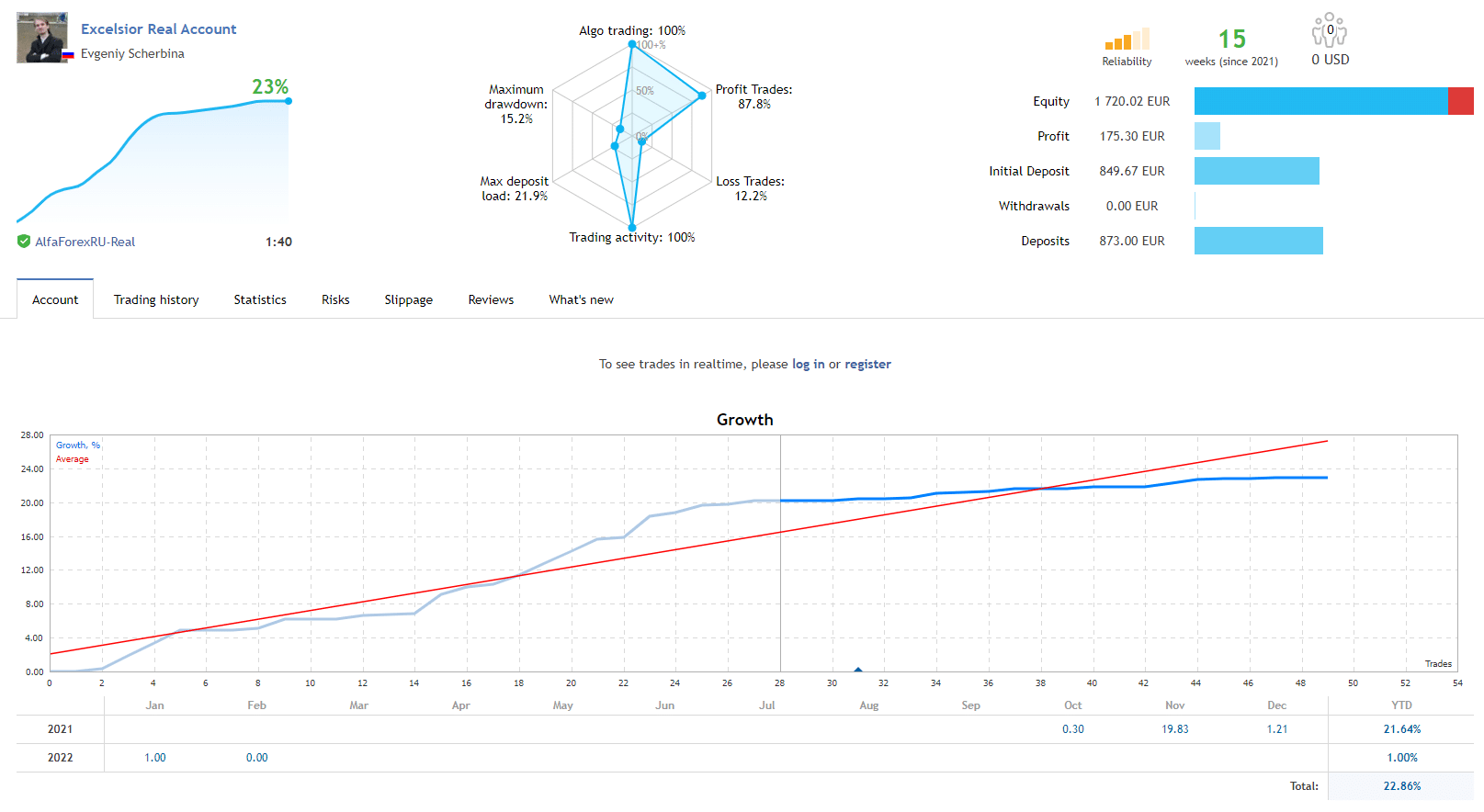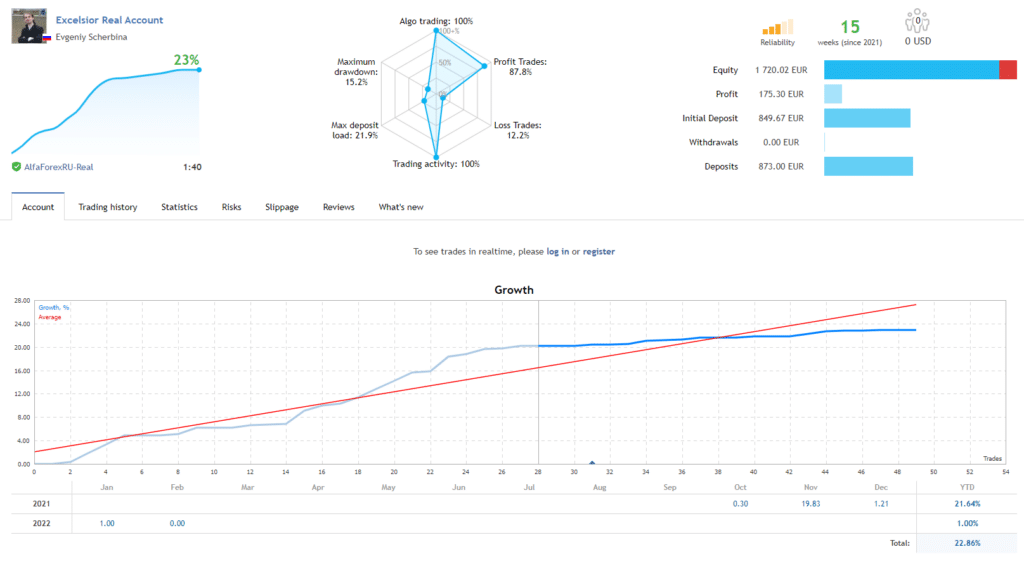 Unfortunately, there are no verified trading accounts for this EA on third-party websites. The vendor has shared the trading results on an MQL5 account that was started on December 5, 2021. This account has had 26 trading days, during which it has conducted only 49 trades. The trading history is too short, which makes it difficult to accurately gauge the profitability.
At this moment, the profitability of this account stands at 87.75%. The EA has generated a total profit of $175.30 and the profit factor for this account is 1413.27. Although the win rate is a bit low compared to the backtest, it is still quite high compared to other systems. The maximum drawdown is only 15.2%, which means the EA is following a low-risk strategy.
The core team
We don't have much information on the developer behind this system. Evgeniy Scherbina is a resident of Russia and he has been selling products on MQL5 for more than eight years. We don't know anything about his background and it is unclear whether he works alone or as a part of a team. Other products from this developer include Pipsovar, NewsCatcher Visual, NewsCatcher Pro, Aint No Trend, and Neural Bar Predictor.