Crypto-gaming is gaining traction globally by introducing new and unique play-to-learn games. These games are built on the blockchain technology of cryptocurrencies and incorporate a decentralized governance system. In addition, Metaverse, ownership of NFTs, and real-money rewards have further enhanced the popularity of such blockchain games.
Extraterrestrial Worlds, most commonly known as Alien Worlds, is one of the most popular P2E games with over 3.6 million registered players and 700k monthly active users. According to DappRadar rankings, the game stands 1st among all Dapp games according to 30 days users.
So, do you want to know how to play and navigate the Metaverse of Alien Worlds for earning rewards? In this article, we have discussed the components and features of this game.
What is the Alien Worlds game?
It is a blockchain-based, play-to-earn game that runs in a Metaverse of seven planets. It is a decentralized game where players mine and exchange various NFTs for earning Trilium, the native currency of Alien Worlds.
Moreover, the game stands out from the rest due to its detailed and impressive DeFi system and features such as in-game staking, Decentralized Autonomous Organizations, NFT lands & weapons, game cards, etc.
Alien Worlds is a relatively new crypto game, launched in 2020 by the German company "Dacoco GmbH." According to its co-founders Sarojina McKenna, and Michael Yeates, Alien Worlds is not just the biggest NFTs game but also creates awareness among people about cryptocurrencies and the DeFi governance.
What is a Trillium token? (TLM)
It is the governance token of Alien Worlds that allows users to participate in game competitions or quests and purchase NFTs. In addition, users stake their TLM to become a part of the governance system and vote in the planet's elections. Moreover, users can acquire TLM by mining and game battles.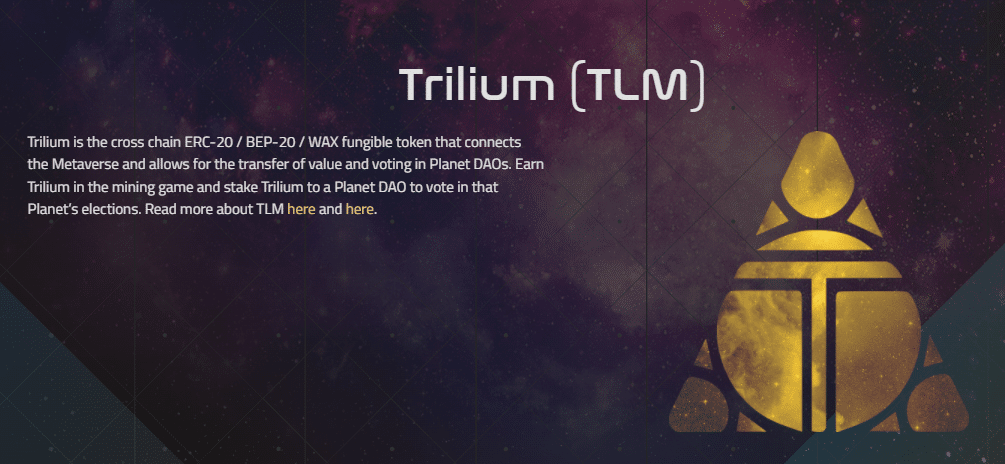 With a fixed supply of ten billion, Trillium is not only an in-game currency but can be utilized outside the game. The cross-chain network of Ethereum, Binance Smart Chain, and WAX supports this fungible token. Currently, its price is around $0.24.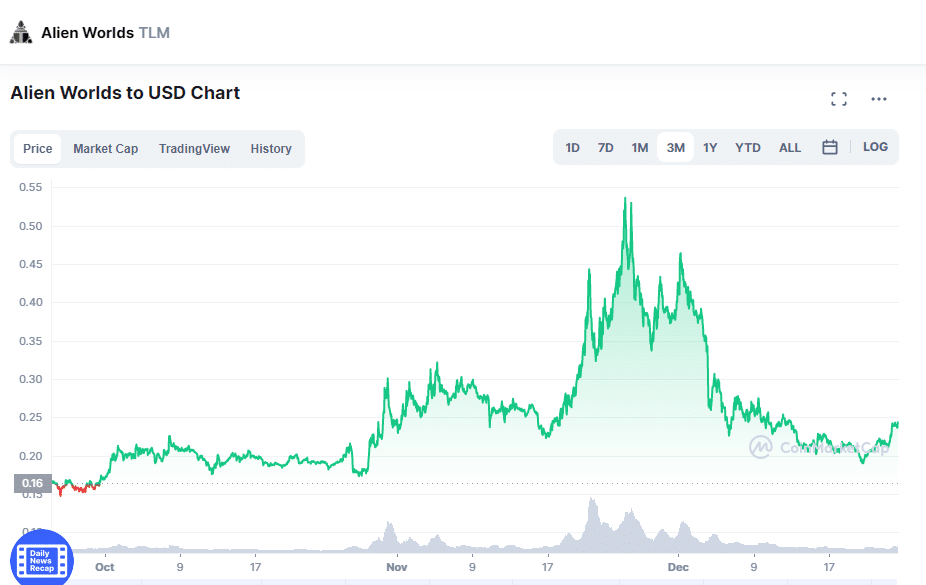 How to start?
Starting with the game is entirely free and straightforward. Firstly, you need to get a WAX wallet for entering the Alien Worlds Metaverse. After creating the WAX wallet, you can go to alienworld.io and log in by entering the required credentials or connecting your social media account.
You are ready to go and start mining Trillium (TLM), purchasing or renting lands, and buying mining equipment or other digital assets.
Key features of the game
We should look at some of the central components of the game universe before learning how to play it.
Like the other blockchain games, non-fungible assets are the key foundation of the Alien Worlds game. Players can buy and sell the NFTs for in-game rewards or fiat money. The unique collectibles of this Metaverse are Land, Minions, Tools, Rarity and Shininess, Avatars, and Weapons.
The game incorporates a Decentralized Autonomous Organization system that runs with no interference from a central authority. Only players participate in voting, monetary decisions, and present proposals relative to their stakes.
Users can stake TLM in the Alien Worlds arena to acquire a part in the platform's governance and earn rewards.
Players may pick strategic game cards from BSC and WAX blockchains and utilize them for missions, mining, and battles.

How does the Extraterrestrial Worlds game work?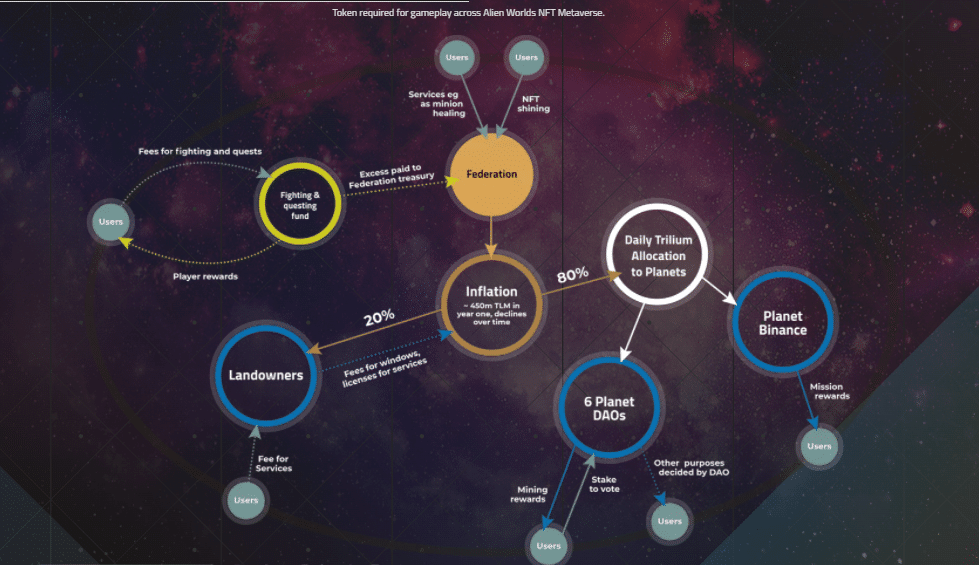 The game opens in 2055, where Earthlings have discovered a way to escape the devastating pandemics on Earth. An alien race sends signals to the Federation — the advanced Bitcoin community that led to the discovery of a wormhole, a path for humans to reach the distant Alien Worlds planets.
Everything in Alien Worlds is a non-fungible digital asset, out of which Lands are the most significant NFT where mining occurs. You can purchase a land parcel to conduct mining or rent it out to other players for earning commissions.
For mining, you need to possess a tokenized mining tool first. 'Standard shovel' is the primary tool used for mining; however, users can purchase advanced equipment such as Localized attractor, Glavor disc, etc., that deliver higher rewards and fasten mining sessions.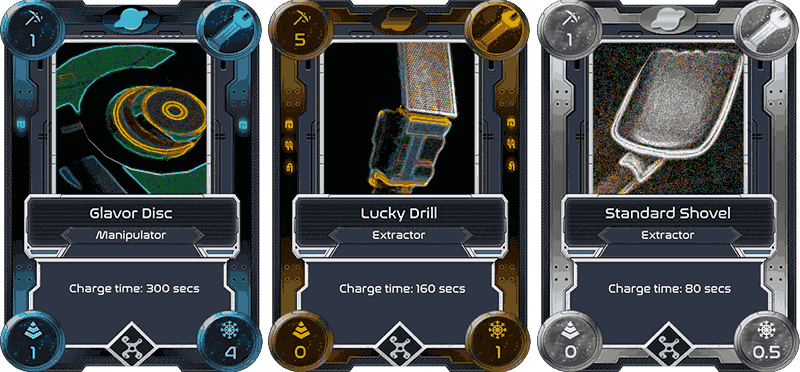 In addition, players can enter several competitions as a representative of their planet and utilize weapons and minions for fighting.
How can you make money by playing Extraterrestrial Worlds?
Following are the three methods to earn money by playing Alien Worlds.
Mining Trillium (TLM)
Mining is the primary way to earn Trillium and NFTs in the Alien Worlds domain. After setting the account, pick out a planet and examine its current mining pot, which shows the maximum TLM amount that could get mined there.
Next, you can choose a land where you want to mine. There are various available lands such as plains and volcanos with different commission rates, TLM yield & NFT luck multiplier, and charge time multiplier. After deciding the Land, you can choose up to three mining tools from the mining hub to start the process.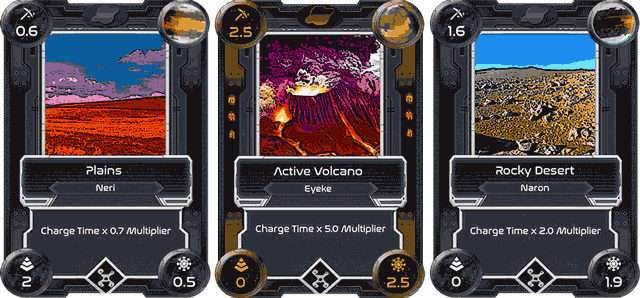 You can now start mining and claim the reward. The procedure could take 30 to 60 seconds, after which you would see the TLM amount earned by that mining session. After each session, mining tools would undergo a "cool down" period before the initiation of the next mining spell.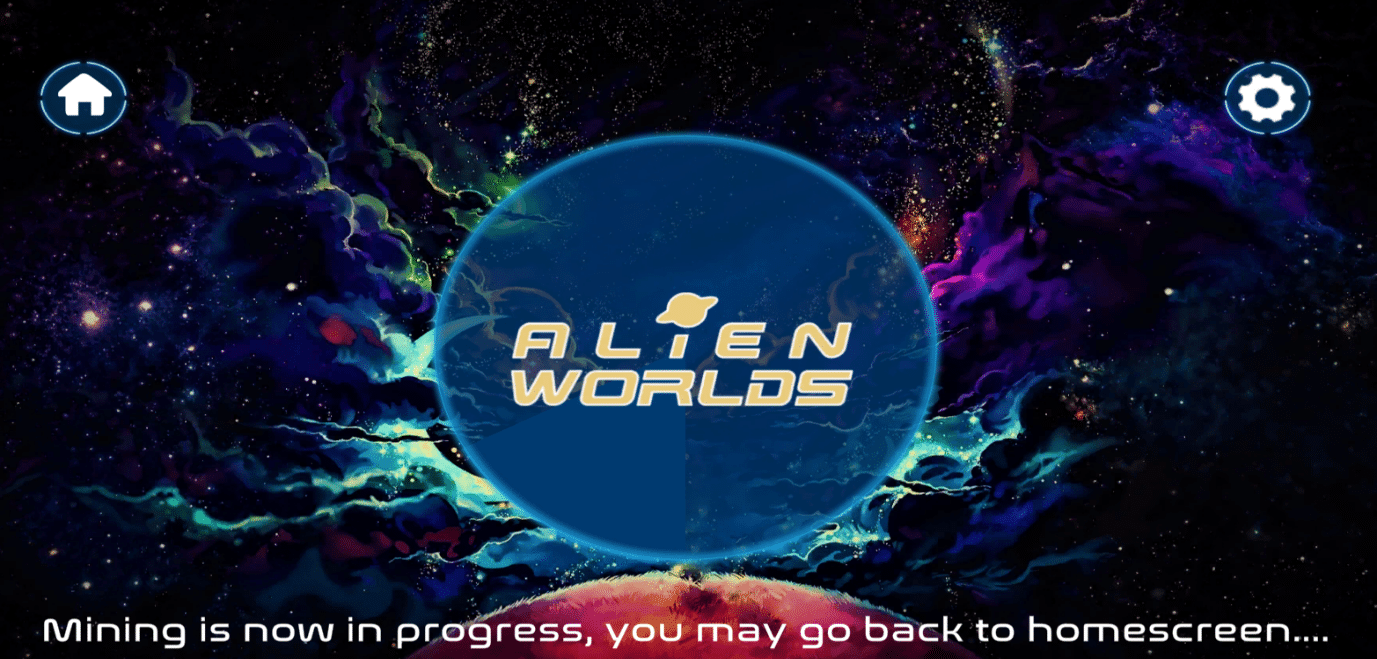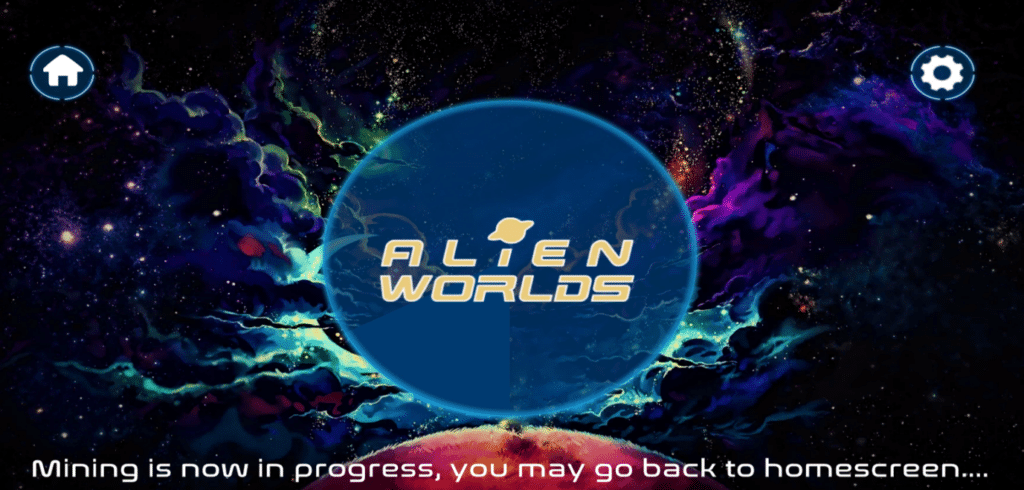 Selling NFTs
Players can get exclusive NFTs during mining; however, the appearance of NFT rewards depends on the NFT luck parameter. The possibility depends on the tool & Land types and ranges from 0.5% to 20%.
Users can earn WAX tokens by selling NFTs on the AtomicHub marketplace. WAX can be converted into TLM and teleported to Binance by Alien Worlds Teleport protocol.
Renting out Land
You can purchase Land, set a commission, and make it available to other players for mining. As a result, you can earn 30-60 TLM per day, depending on your land statistics.
How much could you earn with Alien Worlds in 2022?
It is hard to predict a definite figure as the earnings entirely depend on the time committed for mining and the quality of Land & tools.
For a rough estimate, complete beginners can earn around 2 or 3 TLM per hour; in other words, $0.5-$1 per hour by mining. The earnings can climb up to $8 per hour with better mining equipment.
In contrast, Landowners earn easy commissions on their lands; however, land parcels have to be purchased first with a significant amount.
Final thoughts
Alien Worlds is a widely played game due to its play-to-earn feature and interesting Metaverse components. The game's DeFi system has effectively combined the NFTs hype and blockchain technology, gathering the interest of young players.
Moreover, players earn Trillium, an authentic cryptocurrency, by mining conquests and exchanging NFTs. In a nutshell, Alien Worlds is a leading NFT Metaverse game that some users play to enjoy while others play for gaining a side income.