Gold Scalper Pro is alleged to be a very efficient and lucrative trading algorithm professionally created to trade the XAUUSD currency pair. It doesn't work with high-risk strategies such as grid and martingale. According to the vendor, the system applies a strong and reliable trading logic that needs a few parameters to generate profits.
To acquire this robot, you need to pay $159. You can begin trading with the system on your demo or real accounts immediately. The package comes with a 60-day refund policy as well.
Is Gold Scalper Pro good?
As you will see later in our review, the EA is a low-income earner. However, it features several protection systems that help it to minimize trading risks.
Features of Gold Scalper Pro
| | |
| --- | --- |
| Trading Terminals | MT4, MT5 |
| Strategy | Position entry |
| Timeframe | M1, M15 |
| Price | $159 |
| Money Refund | 60 days |
| Recommended Deposit | $1000-$5000 |
| Recommended Leverage | N/A |
| Money management | Yes |
| Customer reviews | N/A |
The robot comes with the following additional features:
Advanced news filter and money management system
Customer support
Advanced time management system
Email and push notification system
Friday exit system
High spread, slippage, and broker protection
What strategy does Gold Scalper Pro use?
According to the vendor, the EA applies a position entry in the direction of a distinctive market impulse and a following correction. It also applies reasonable stop loss levels and an efficient entry and exit trading logic.
Backtesting vs live trading results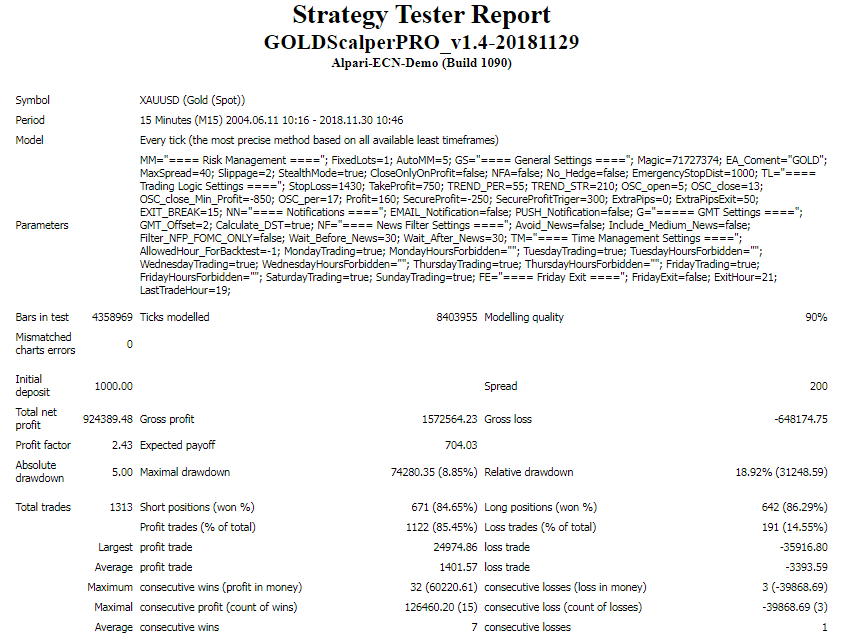 The EA traded on the M15 chart using the XAUUSD currency pair. The trading period data ranged between June 2004 and November 2018. With a deposit of $1000, the robot conducted 1313 trades and attained a decent profit of $924389.48.
Unfortunately, the average loss trade (-$3393.59) was higher compared to the average profit trade ($1401.57). For the most part, the EA recorded more losses than wins. There was a drawdown of 8.85%. The success rates for short and long positions were 84.65% and 86.29%, respectively.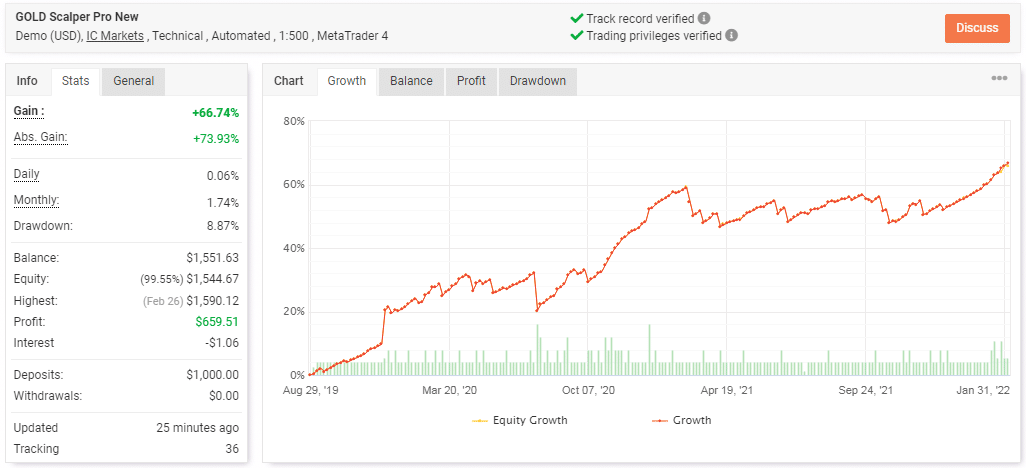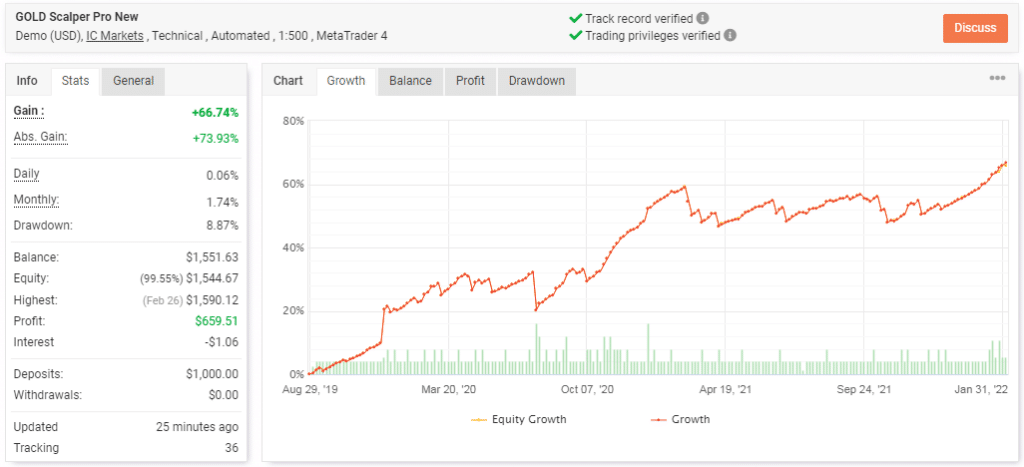 The profitability rate of the EA in a live account is much lower compared to the simulation period. In more than 2 years of trading, it has only generated a profit of $659.51 from a deposit of $1000. The trading risks are almost similar to the backtesting period, as the account has recorded a drawdown of 8.87%. This tells us that Gold Scalper Pro is a low-risk trader. The growth rate of the account currently stands at 66.74%.

The EA has implemented 260 trades with 7.82 lots. Similar to the testing phase, this system also generates more losses than wins. As you can see, we have a higher average loss (-749.42 pips) than the average win (218.86 pips). The profit factor is 1.77. On average, a trade is held for 5 hours and 5 minutes.

This account is about to get burned.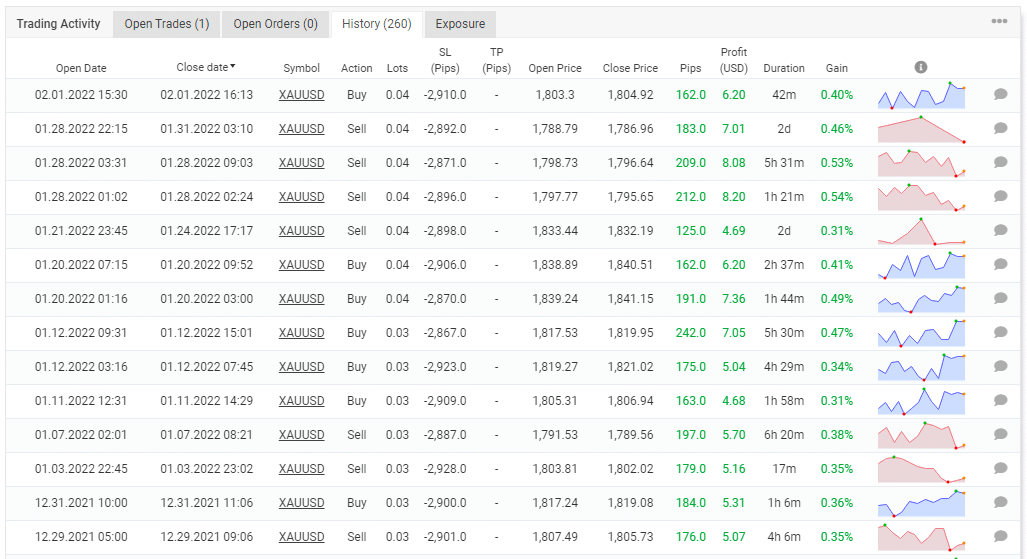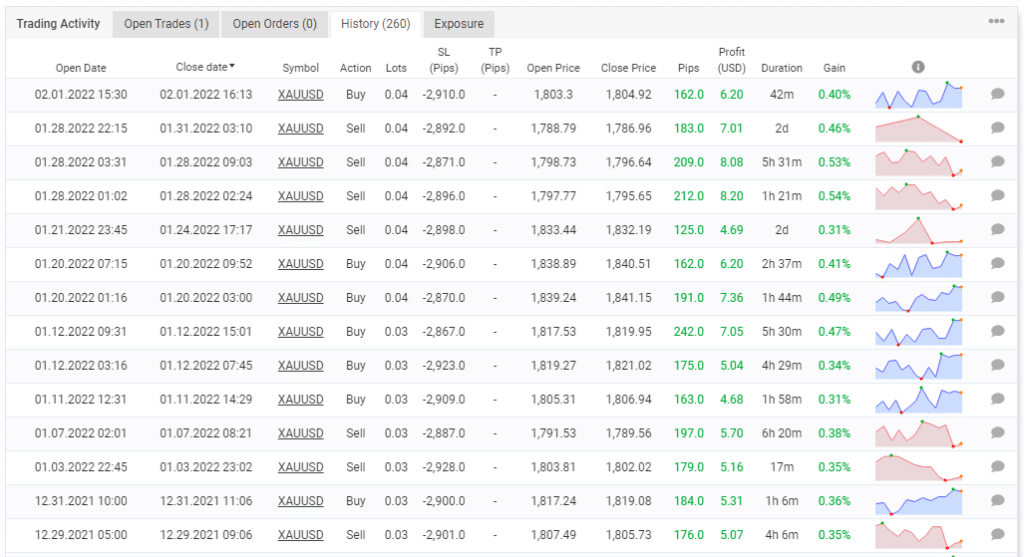 Varying lot sizes and small time frames were used. Minute profits were realized.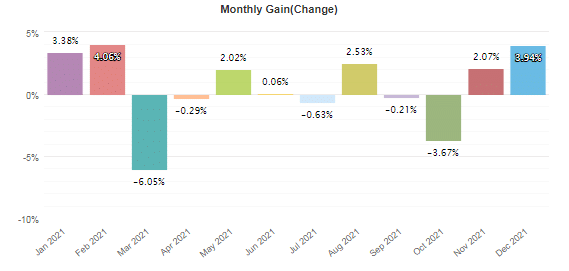 The monthly performance of the EA was inconsistent in 2021.
The core team
Gold Scalper Pro was developed by the FxAutomater team, which claims to have been trading in this market for 15+ years and developing trading tools for a decade now. The team includes active Forex traders and committed investors. Their main goal is to create, research, test, and unveil trading algorithms and systems for traders' benefits. Even then, the names of the devs and individual professional backgrounds remain hidden.