Happy Fast Money is a trading solution that belongs to the well-known company–Happy Forex. The developers have a decent reputation among Forex related traders.
Happy Fast Money has two offers provided. Traders can purchase a 2-license pack for 299 EUR or a five-license pack for 499 EUR. It is also possible to work on many demo accounts simultaneously. There are some features provided: free updates and upgrades, welcome support, and 30-day refund policy.
Is Happy Fast Money good?
The robot works well and it's a good advisor to work with.
Features of Happy Fast Money
There are some details and feature explanations published in the presentation. So, we have systemized all this data to help you make the right decision.
The system is a completely automated trading solution that allows us to relax and count profits.
The robot works with a combination of a Grid and Hedges strategies.
They are risky enough to work with.
This combination means that the robot puts orders in both directions at the same time.
We can trade with EURUSD, GBPUSD, EURGBP, AUDUSD, EURCHF, and USDCHF cross pairs.
The EA doesn't require us to have previous trading experience.
So, it fits the trading expectations of various traders.
We should use it on the MT4 platform only.
It's possible to customize the following parameters: MinProfit, HedgeAfter, HedgeIncrease, and Setting Hedge.
There are extra bots provided for free.
We may set it on different operational systems: Windows 7, 8, 10, Mac OS, and Linux.
Micro, Mini, and Standard are approved types of the account.
The account balance should be higher than $5000.
It seeks trading opportunities 24/7.
The ECN account will increase our execution speed.
| | |
| --- | --- |
| Trading Terminals | MT4 |
| Strategy | Hedge and Grid |
| Timeframe | N/A |
| Price | €299, €499 |
| Money Refund | 30 days |
| Recommended Deposit | $5000 |
| Recommended Leverage | N/A |
| Money Management | Yes |
| Customer Reviews | Yes |
What strategy does Happy Fast Money use?
The system works with a Hedge and Grid combo.
We can work with EURUSD, GBPUSD, EURGBP, AUDUSD, EURCHF, and USDCHF.
The time frame wasn't revealed.
Backtesting vs live trading results
There are no backtest reports published that could help us to understand how well the robot performed before release.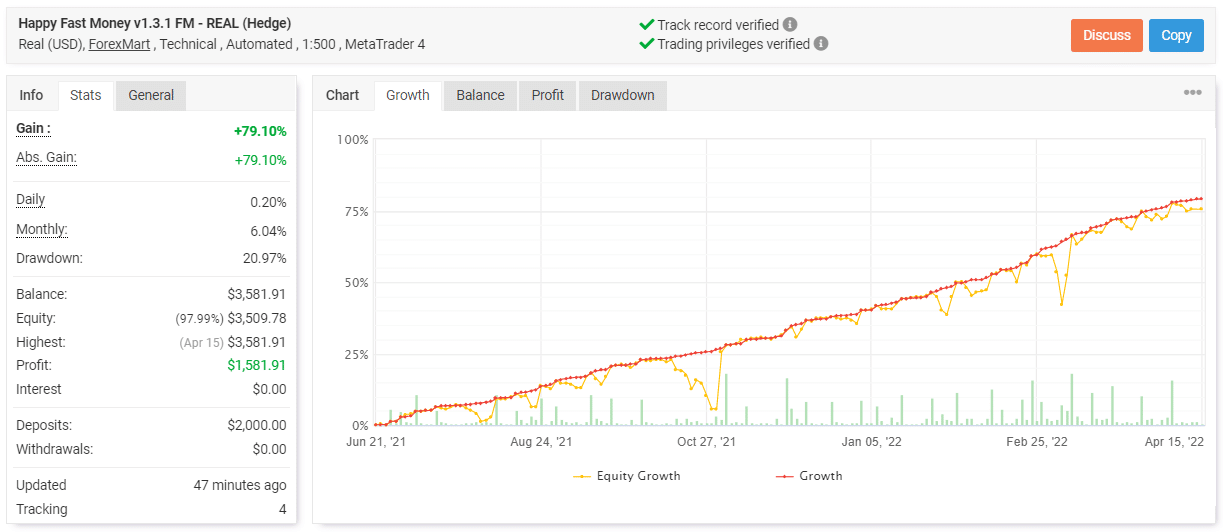 Happy Fast Money is a trading advisor that works on a real market. The broker was chosen as ForexMart. The leverage is average–1:500. It receives data from the MeatTrader 4 terminal. The account has a verified track record. It was created on June 21, 2021, and funded at $2000. Its total gain is 79.10%. The system trades with an average monthly gain of 6.04% and a daily gain of 0.20%.


There were 1441 orders executed with 17,219.3 pips. The robot traded 15.40 lots. An average win is 36.28 pips when an average loss is -51.80 pips. An average trade length is four days. Its profit factor is 1.64. It means that the robot is consistently profitable.


The devs use it only on three currency pairs. AUDUSD is the most actively traded symbol with 563 deals and $926.03 profits.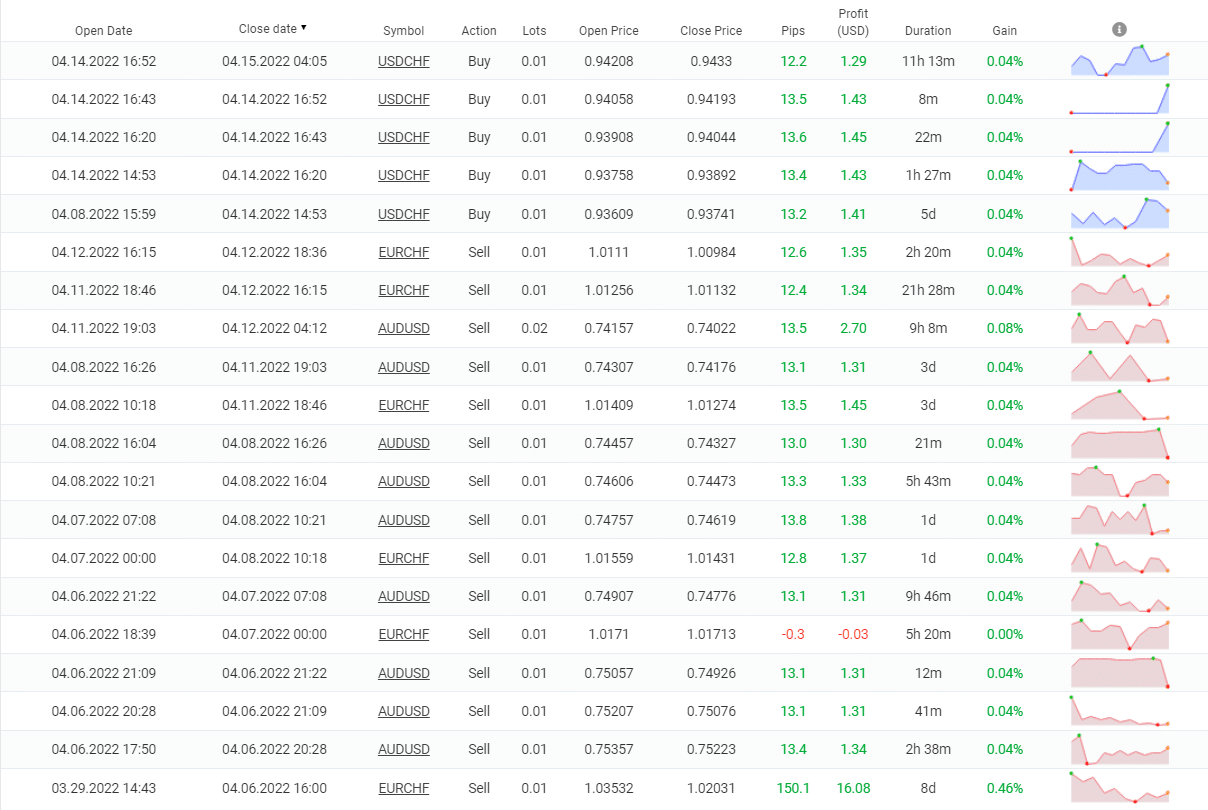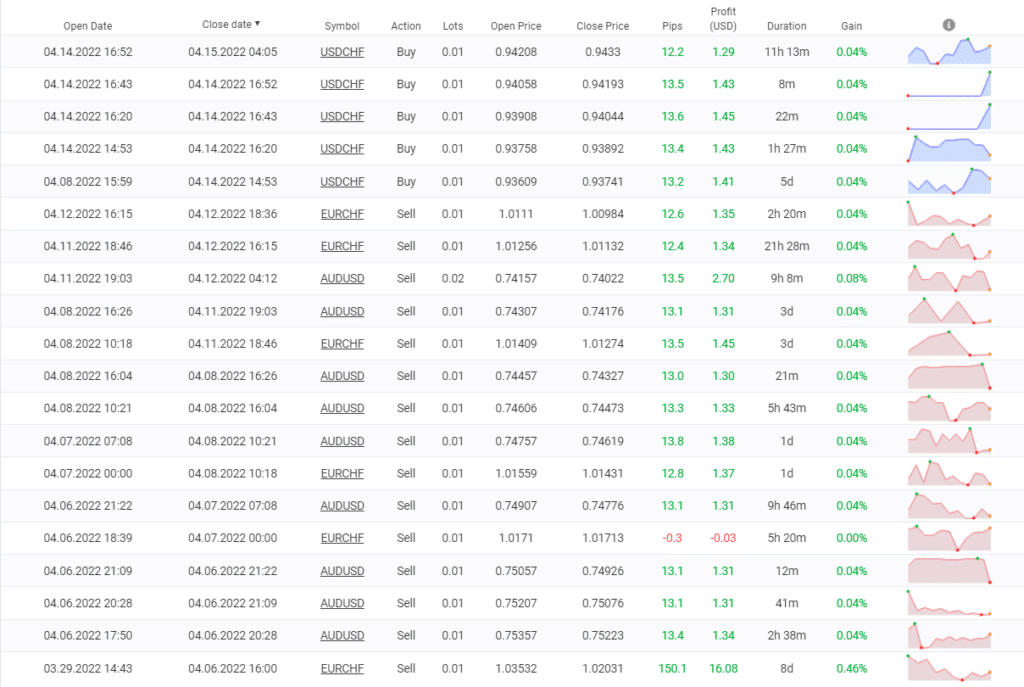 Happy Fast Money has won 19 last orders from 20. It's a good result.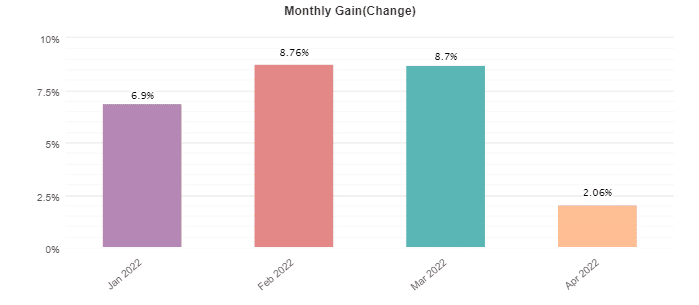 The robot closed three months with profit this year.
The core team
Happy Forex has a significant portfolio of trading solutions that includes: Happy Gold, Happy Forex, Happy Neuron, Happy Frequency, Happy News, etc.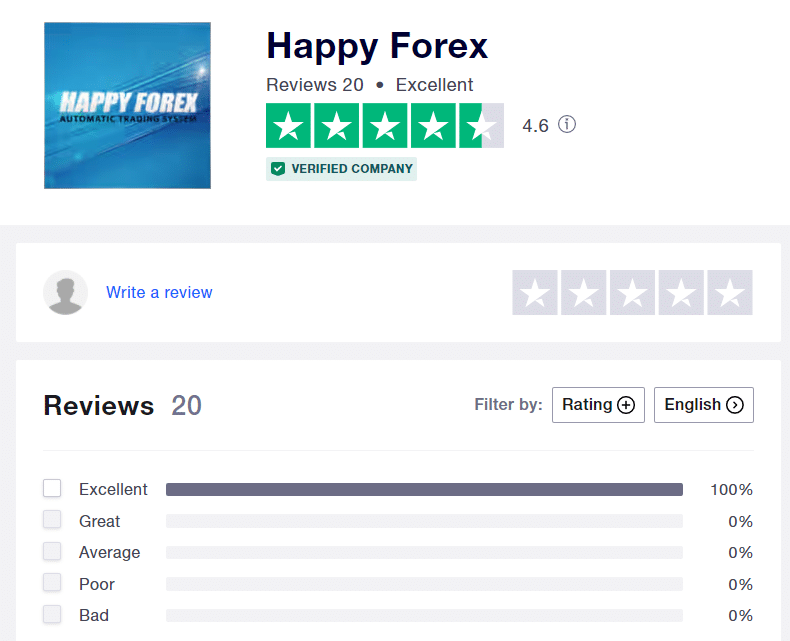 The developers have deployed a profile on Trustpilot. There are 20 testimonials published that formed a 4.6 rate.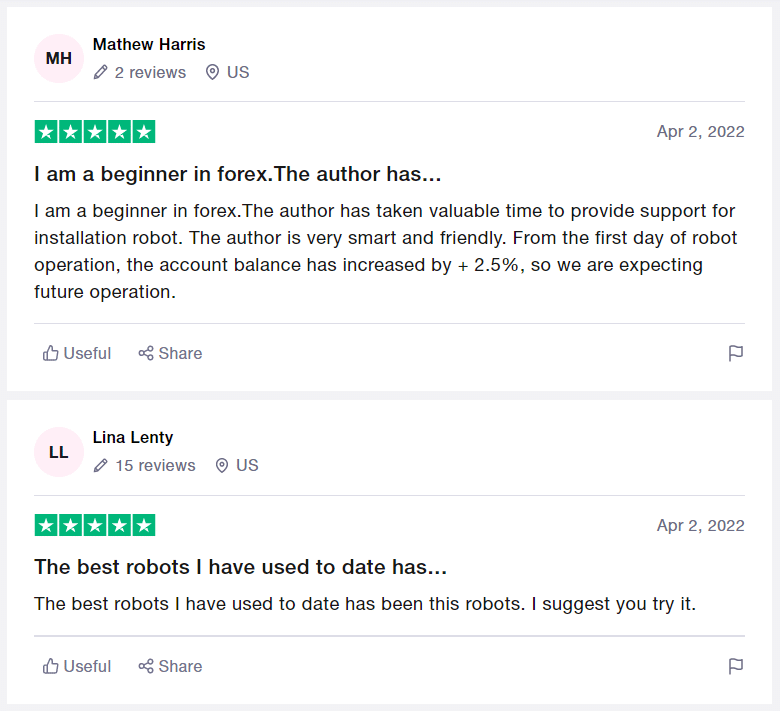 We have many testimonials that mentioned people's positive experience of using the trading systems developed by this company.