Mood EA is a system designed to work on both the MT4 and MT5 platforms. It features a wide range of parameters, including trade buy and sell, lot multiplier, DD reduction algorithm, SL and TP levels, fix distance, maximum lot, a money management system, and many more.
Mood EA is priced at $30. The developer doesn't include any other packages or a refund policy.
Is Mood EA good?
As earlier indicated, the EA is affordable, so you can easily access it. But what will you get in return? We found a demo account run by this system on Myfxbook. Though the trading history is short, we noted that dangerous strategies are used. The EA works with large lot sizes, the grid, and martingale strategies. So, exposure to trading risks might increase over time and eventually lead to the loss of capital.
Features of Mood EA
| | |
| --- | --- |
| Trading Terminals | MT4, MT5 |
| Strategy | Momentum trading |
| Timeframe | N/A |
| Price | $30 |
| Money Refund | N/A |
| Recommended Deposit | N/A |
| Recommended Leverage | N/A |
| Money management | N/A |
| Customer reviews | Excellent (5 out of 5 rating based on 53 reviews on mql5) |
What strategy does Mood EA use?
Mood EA engages in momentum trading. The system particularly uses the momentum indicator to identify trading opportunities. It utilizes the overbought and oversold conditions of this indicator to enter a position, catching the "mood" of traders.
Backtesting vs live trading results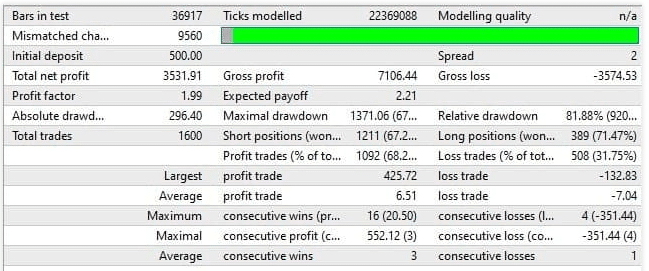 We have an account that was deposited at 500, and after conducting 1600 trades, the EA generated a total net profit of $3531.91. The success rates for the short positions were 67% and 71% for long positions. There was a profit factor of 1.99 and a relative drawdown of 81.88%, a sign that the robot traded riskily and made average profits as a result.
From the average profit trade ($6.51) and a loss trade (-$7.04) values, it is obvious that the robot's chances of ending up with a loss than a profit were slightly high.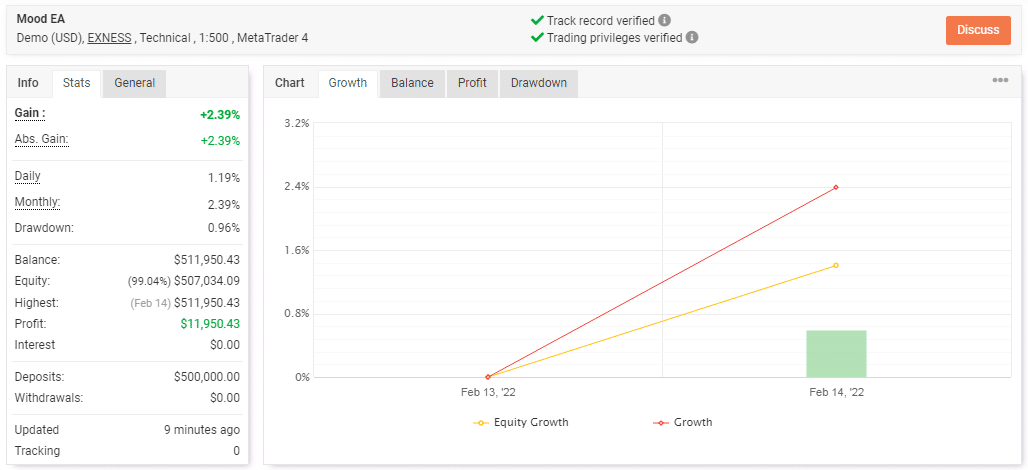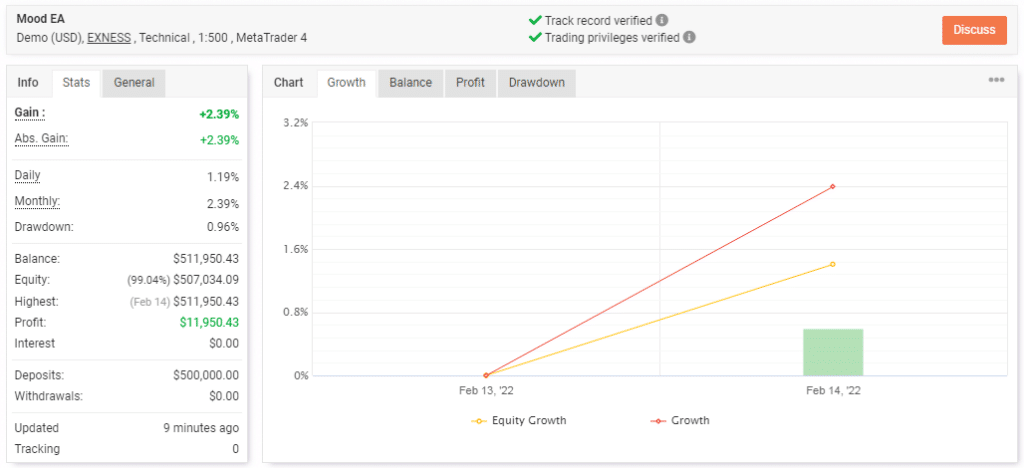 The EA is presently running a heavily funded ($500,000) demo account on Myfxbook, which was opened several days ago. The daily (1.19%) and monthly profits (2.39%) are low. So far, the profit amount generated is $11,950.43, which is equivalent to a 2.39% total gain. The drawdown of 0.96% is proof that the system has traded safely till now.


We have 12 completed trades with 100% win rates for the long positions and 81% for short ones. The average trade length is 59m, and the traded lots are 58.80. There's an average win of 231.70 pips and an average loss of -291.50 pips.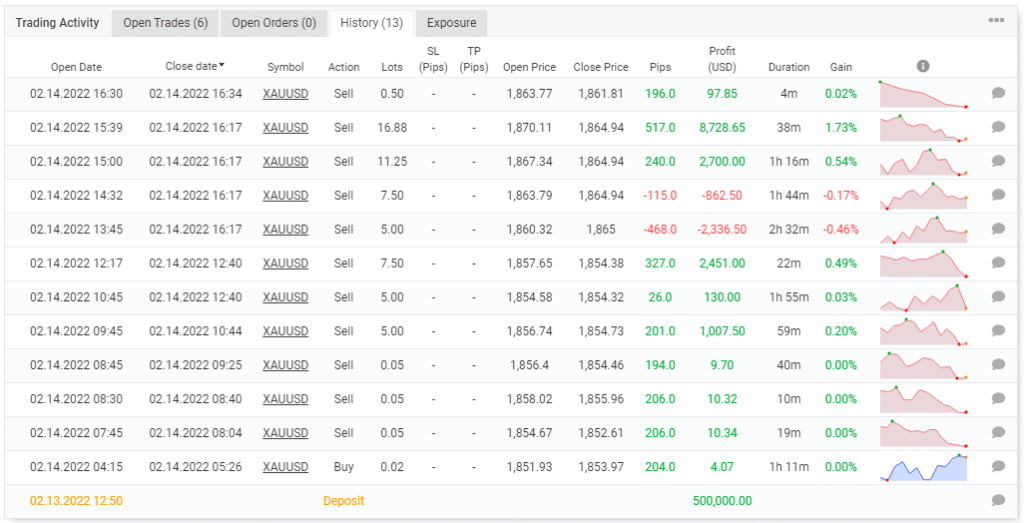 The system has made sizable profits and a few losses. Some elements of the grid and martingale strategies are apparent.
The core team
Vasiliy Strukov is the individual behind this EA. The only available info about him is that he is from Russia and also the developer of trading systems like Gold Stuff, Status, CheckPoint, etc.