Shell Forex EA is a Forex robot that has been active in the live market since December 2021. It is a 100% automated trading system that, according to the vendor, allows you to simplify the trading process. Also, it claims to generate profits without risking a large portion of your account for each trade.
This EA is currently available at 49 Euros. After completing the payment, you can send the MT4 account number to the service team to get the license for the robot. Compared to other EAs on the market, this one is quite affordable. However, the vendor provides unconditional refunds, but we don't know how long the refund window is.
Is Shell Forex EA good?
Shell Forex EA is affordable and is supported by verified trading statistics. It claims not to use risky strategies, but we don't have enough information on how it functions and how it identifies profitable trades. There is not enough information on the parent company and the live results show us that the EA trades with a high drawdown.
Features of Shell Forex EA
This is a robot that does not use risky strategies like grid, arbitrage, and martingale. It is not dependent on broker conditions, so you can use it with any broker of your choice. The vendor offers free updates for all customers and claims that the EA is easy to use.
Shell Forex EA is compatible with the Metatrader 4 trading platform. It is an auto-adaptive system with set files tested by the developer. You can get this EA up and running within five minutes. The pairs supported by Shell Forex EA include AUD/USD, EUR/AUD, GBP/AUD, GBP/JPY, GBP/USD, and USD/JPY.
| | |
| --- | --- |
| Trading Terminals | MT4 |
| Strategy | N/A |
| Timeframe | N/A |
| Price | 49 Euros |
| Money Refund | Yes |
| Recommended Deposit | N/A |
| Recommended Leverage | 1:200 |
| Money Management | No |
| Customer Reviews | N/A |
What strategy does Shell Forex EA use?
On the official website, the vendor has provided no explanation for the trading strategy used by this EA. We don't know what indicators it uses or which fundamental and technical factors it analyzes for spotting profitable trading opportunities.
Backtesting vs live trading results
Unfortunately, the vendor has not shared the backtesting results for this expert advisor. These tests are performed using historical data and they go on for several years, thus revealing the long-term performance of the robot. Without them, we cannot tell whether the robot is capable of dealing with various market scenarios.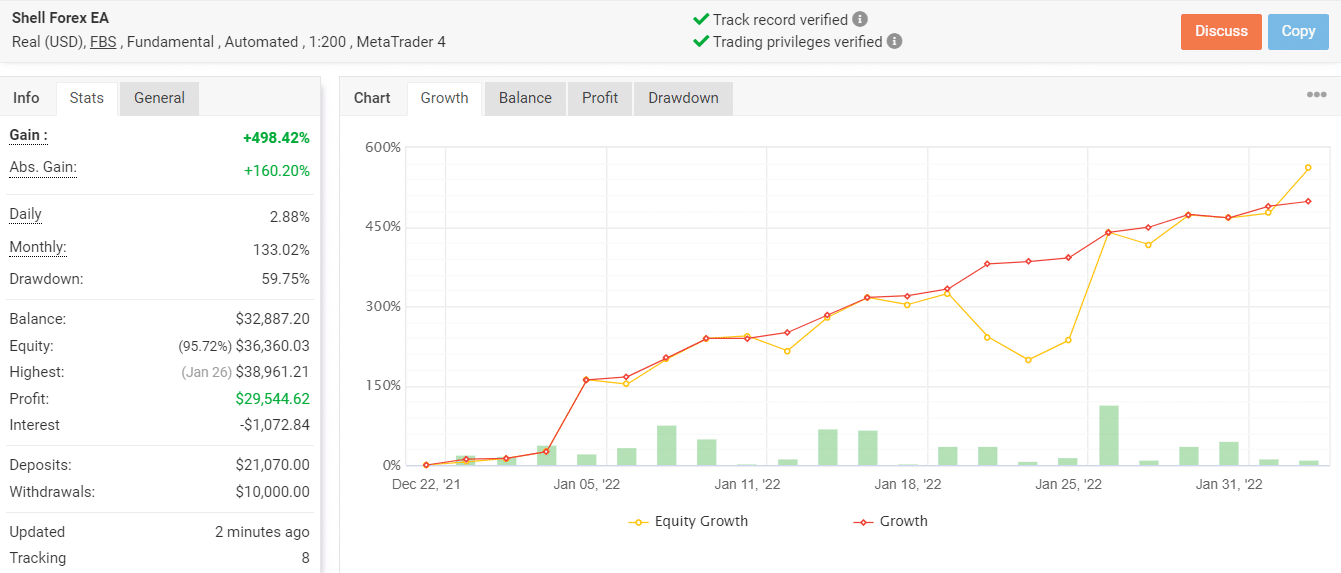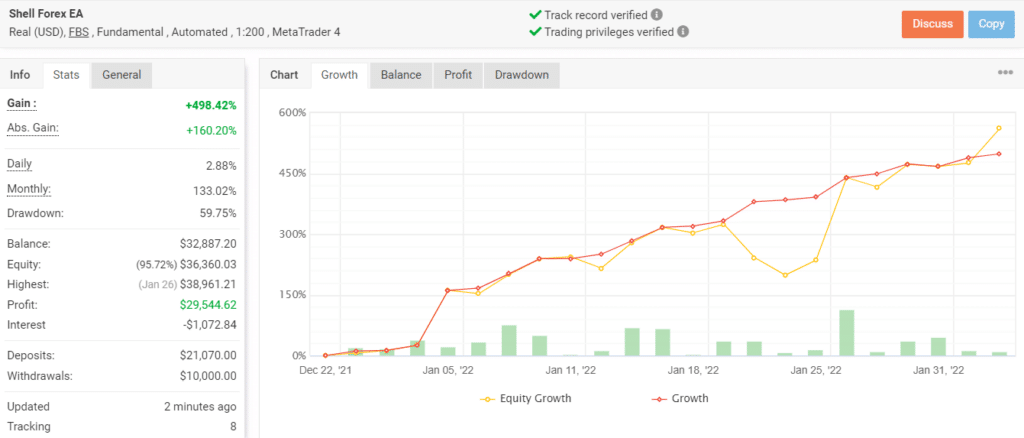 Since December 01, 2021, the EA has conducted 250 trades through this account. It does not have a long trading history, but the win rate is quite decent at 75%. Currently, the total profit for this account stands at $29,544.62. The daily and monthly gains are 2.88% and 133.02%, respectively, while the drawdown is 59.75%. Looking at the high drawdown, we can tell that the EA follows a risky trading strategy.
This account has a profit factor of 2.66 and a time-weighted return of 498.42%. It trades through the FBS brokerage using 1:200 leverage.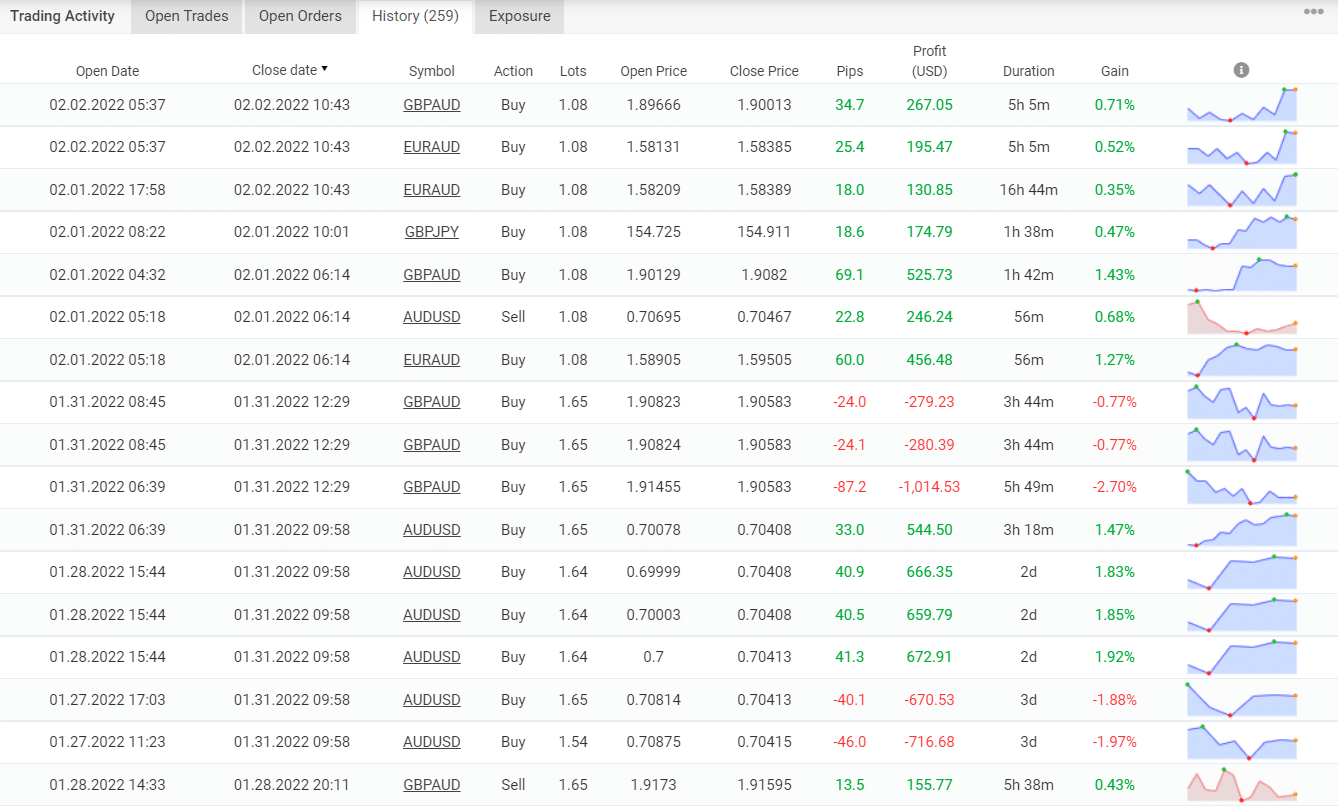 Here we have the recent trades placed through this account. The robot trades with a lot size of 1.08-1.65, holding each trade for a few hours and sometimes for 2-3 days. It is evident that the EA is capable of suffering consecutive losses, especially when it trades with a larger lot size. The average win and loss for this account are 26.51 pips/$229.57 and -28.42 pips/-$261.95, respectively.
The core team
We don't have any information on the parent company behind this trading system. The vendor has not revealed the identities of the developers and we don't know where the company is located. There are no contact details and the only way to get in touch with the support team is through the contact form on the website.