Due to the increasing awareness regarding investment benefits, most people have now turned to various investment plans and accounts. Investing is a key to financial comfort and future security. Moreover, investment from a young age allows magnified gains and a good investment return ratio.
Investment accounts work in diverse ways, but the end goal is similar: to generate profits on the initial investment amount. It is important to note that real-money investments in stocks, ETFs, or other commodities are intimidating for even professionals.
Therefore, diving into the financial markets without proper knowledge and a risk management plan can lead to innumerable losses. Here is when virtual trading and stock market games help investors learn about the market nuances.
Read this article to learn about simulated investing and the different features of the Wealthbase investing app in this regard.
How does simulated investing work?
Simulated or hypothetical investing is the strategy to enter the investing arena without using real money. Even if you make profits, they do not have any worth, but the losses do not impact you.
Simulated investing uses real-time market data and imitates the actual investing environment in every aspect. Stock market games encourage competition between investors to pick out leading and best-performing stocks. Top investors/winners get the chance to improve their virtual portfolio or ranking and gain real-life prizes as well.
While stock games mainly focus on investing, virtual trading allows users to trade on real brokers' platforms through a demo account.
Reason to use for investors
Virtual investing serves as a great learning experience for investors. Simulation trading cushions any mistakes made in placing orders or wrong choices and guard the users against real financial damage.
Furthermore, experts can also benefit from simulator platforms by testing new strategies without the risk of leveraging real money. In addition, investors also interact with other users and track their performances and stock choices through online community platforms or social media.
Loss of real money results in diminished decision quality, emotional turbulence, and psychological pressure. However, virtual investing and stock games let the users experience all market conditions and prepare them for proper risk management.
Simulation investing is a remarkable strategy to build confidence and maintain consistency of winning percentage.
For example, if you are an avid simulated investor and buy a stock share at $200, you can continuously monitor the stock performance, write notes and calculate daily or monthly returns. Then, when you sell that share at a higher price, say $240, it means you would manage to acquire a 20% investment return.
Features of Wealthbase investing app
Wealthbase is a simulated trading game platform for investors to build their investing knowledge in a competitive environment and interact with professional traders and investors.


Cost/Fees
Wealthbase is available at google play store and iOS free of cost. It is also accessible through its website without any fees.
The platform charges no commission on stocks and ETFs trades. However, it charges a 0.15% commission per crypto trade to integrate a real-life trading experience.
Reasons to get this app
Wealthbase offers investment in stocks, ETFs and ARDs listed on NASDAQ, NYSE, and BATS exchanges. In addition, the developers have introduced 50+ cryptocurrencies for simulated trading as well.
Furthermore, Wealthbase has a dedicated 'learning center' containing educational articles about investment and financial strategies. This investing 101 allows users to learn about financial terminologies and stock markets patterns alongside simulating games.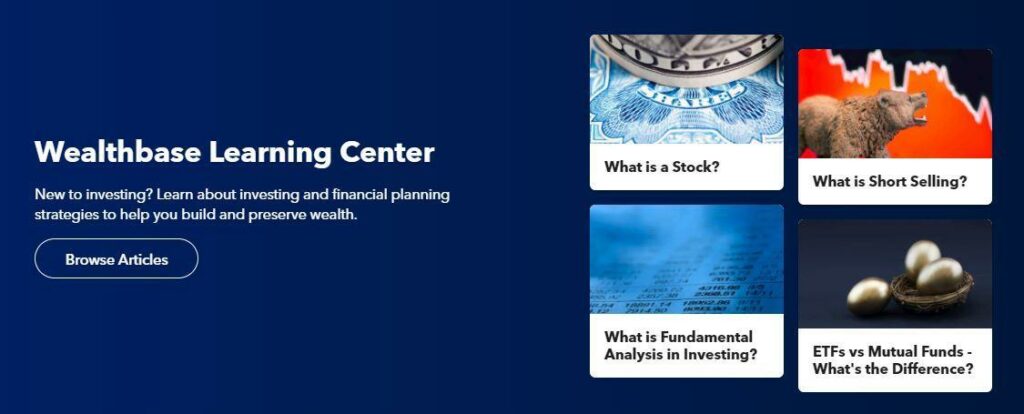 Recently, Wealthbase has launched a social media sharing feature by which users can share their trades in unique images and styles. In addition, investors can write their investing rationales in the platform's activity feed.
The most prominent component of Wealthbase is its 'stock trading games.' Users can host/sponsor games themselves or only participate in other hosts' games.
Types of Wealthbase games
Wealthbase games merge educational and competitive environments with fun elements. They exist in three main categories. We are going to discuss them one by one briefly.
Friends games are free to host and allow a maximum of five players. Players can play the game for up to 15 days with real trading data and asset selection. Moreover, friends games are an excellent way to understand the making procedure of a Wealthbase game before hosting advanced categories.
Club games are suitable for larger groups like investing clubs, workplace teams, and school clubs. In this case, the hosting party has to pay a game fee of $20 with five cents per player/day.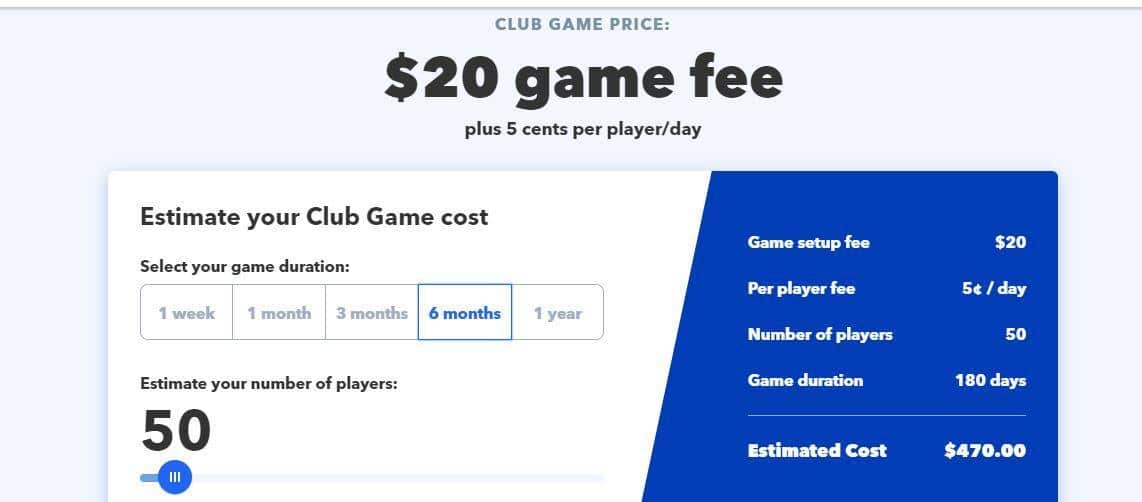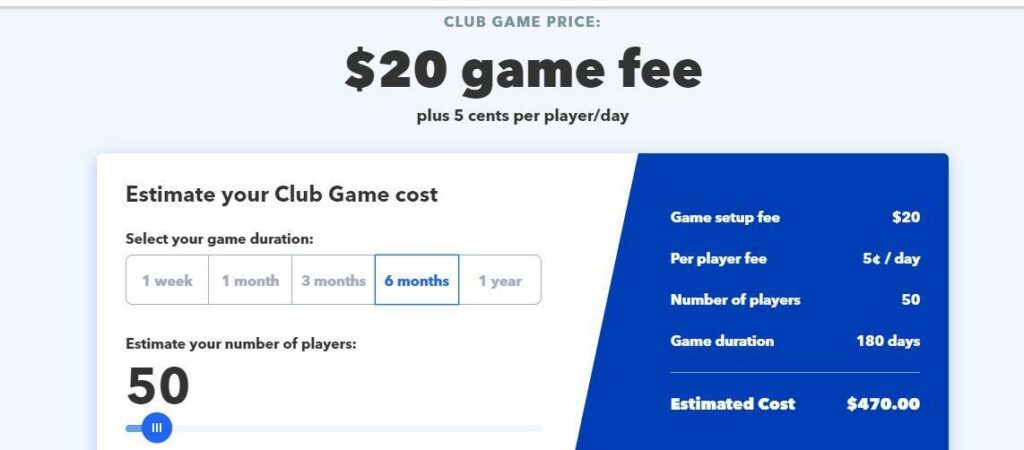 Club games allow up to 1000 players, and the game's duration can extend to one year. In addition, Wealthbase provides game admin controls to manage the current players and invite new ones.
Wealthbase allows financial brands and influencers to reach a broader audience by hosting a public game featured on the Wealthbase website. The developers have mentioned no definite pricing for sponsoring these games, as brands get a quote about game fees by contacting the Wealthbase team.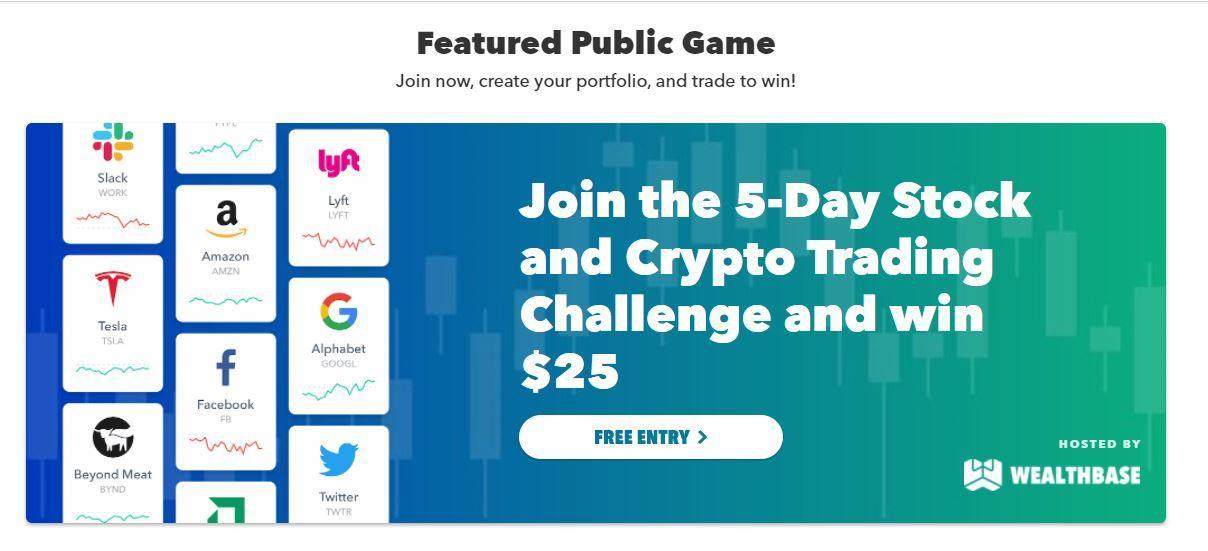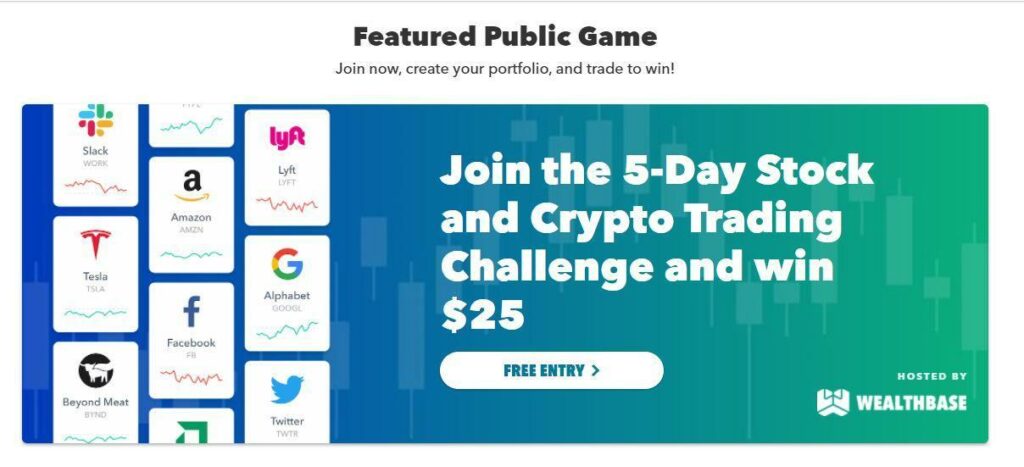 Public games cater up to 10,000 players with a real-life trading environment and awards or prizes for the winners. In addition, the hosting brand can promote itself through ads and social networks through these games.
How do Wealthbase games work?
The games start with distributing a virtual $100,000 capital to each player and allow them to select asset classes for building a mock portfolio. Afterward, competitors can track their performance on the game leaderboard that displays information regarding all participants.
Furthermore, players can create watchlists to track the performance of various stocks, ETFs, and cryptocurrencies. Traders place orders including market, limit, and stop orders, to experience real-life order execution functionality.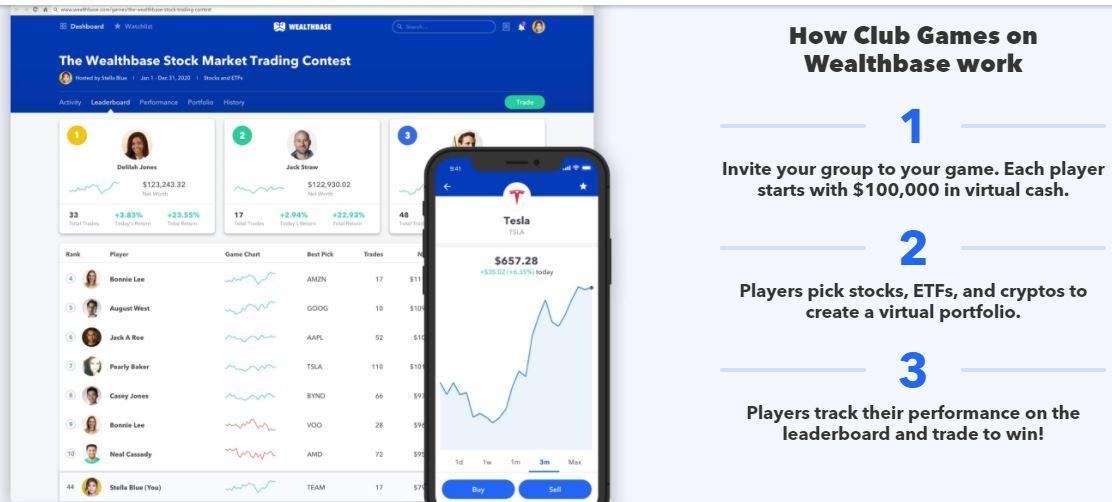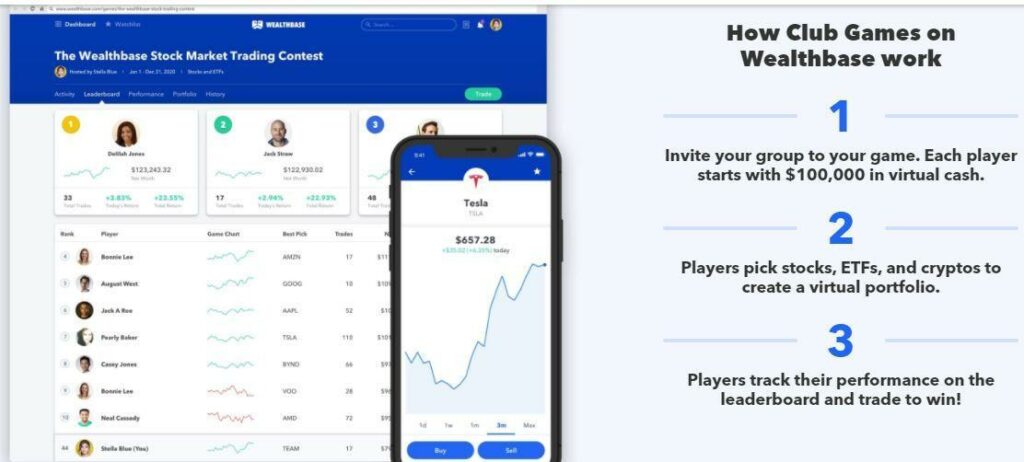 In addition, players can write rationale notes on their purchased stocks and share them with others on the game feed. Wealthbase allows users to manage their investment portfolios like a real one, by which they can track their stock performances, closed positions, and daily profits.
Participants can also compare their performance concerning various indicators like game average and market indices. At the closing of each day, the platform forwards emails regarding market highlights and game activity to each player.
Players can enter late in the simulated games if the creator allows late entry and not more than 20% of the game duration has passed. Participants can also not hold more than 20% of their portfolio capital in a single stock share. Moreover, Wealthbase does not allow penny stocks trading or trading stocks with a market price of less than $2.
How to open an account?
Opening an account on Wealthbase is fast, easy, and free of cost. You can sign up with your email or link your social media to open an account.
Next, the new users must fill in the profile information, including full name and user name to start using Wealthbase.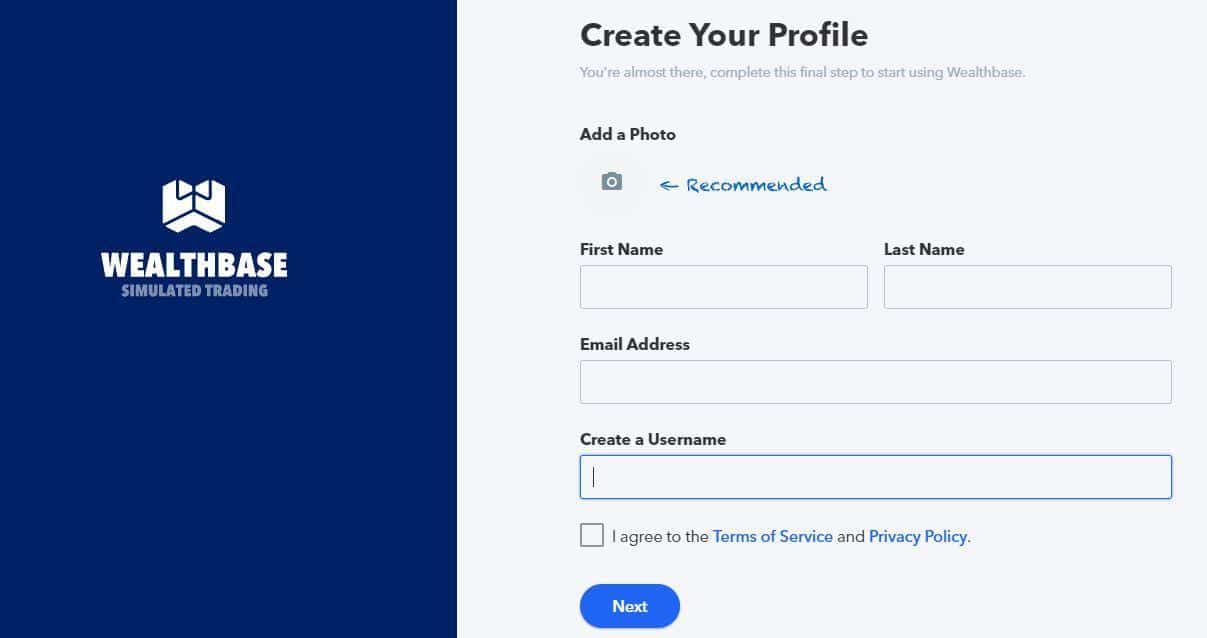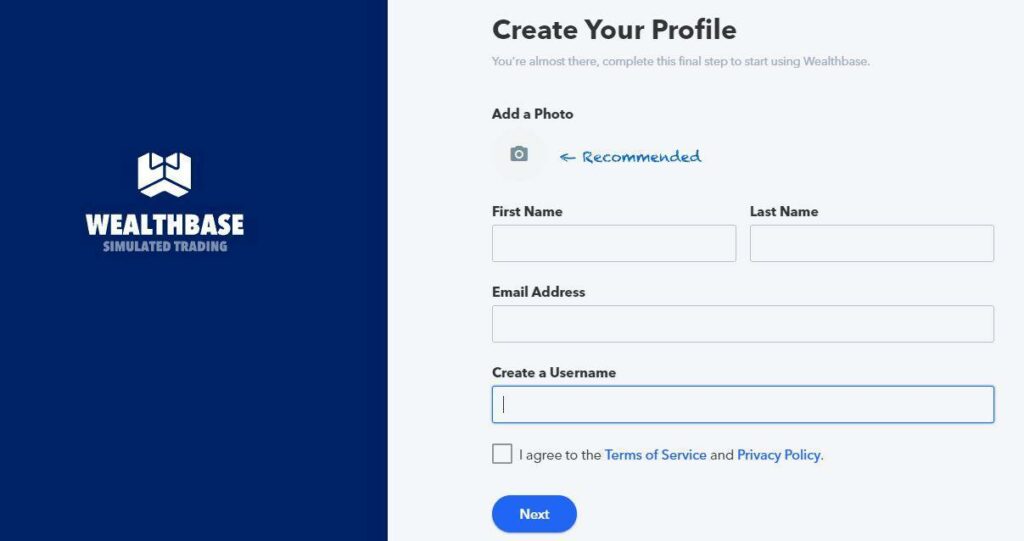 Pros & cons
It provides a great learning environment to traders and investors but you should know the various pros and cons associated with its use.
Pros
Cons
Safe learning opportunity

The app creates an opportunity for investors and traders to learn about diverse investing methods and procedures without losing real money.
Fees for hosting games

Game creators for large groups have to pay fees according to the game's duration and other factors. 
Infusion of entertainment and fun

Users experience real-life investment situations by playing enjoyable trading games.
Risky trading habits

Players can develop risky trade habits with poor risk management as their real money is not at stake.
Interaction with professional traders

Wealthbase gives investors the chance to gain benefit from the ideas and strategies of professionals.
Over-estimated confidence 

Stock trader gamers may provide users a false sense of confidence by a winning streak of virtual investments, even though they might not have grasped real-life investment challenges.
Final thoughts
Wealthbase is a leading stock simulator platform that has consolidated learning and practicing in one place. Users benefit by playing diverse trading games and regularly updating activity feeds, investment ideas, and real-time financial market data. In addition, game hosts can create customized games, game rules and send joining invitations to various players.
Wealthbase has inculcated gamification of stock market learning and investment strategies. The addition of social media elements and an interactive game feed has further enhanced the entertainment feature of using this platform.