HaasOnline is a company that works on the crypto market, delivering various trading solutions. We can find the world's most advanced automated crypto trade bots. So, it's a serious claim and we're going to check it out.
HaasOnline overview
We have prepared a list of possible features that we can use separated on several blocks for your comfortability.
Automated and secure trading experience
The bot can perform deals for us completely automatically.
The system is able to work with closed prices or order books.
We can store our API keys on a cloud service.
Easy to configure
The service allows us to configure a bot without problems.
There are possibilities to design our own bots and backtest them properly.
Backtesting lets a user decrease risks of significant losses in real trading.
There's a HaasOnline TradeServer feature implemented.
We can configure the bot properly.
Does HaasOnline work?
The service supports a HaasScript language to help design our strategies.
All solutions are available on cloud services.
The language lets users customize, develop, and, the most important, test strategies properly.
So, we can develop our own trading bot.
There are verified strategies available.
We can get notifications via Telegram and Discord.
The developers deliver solutions for us without restrictions: exchanges, trade volumes, or percentages.
We can properly test solutions that we design.
There are some relevant features applied: custom order types, bot extensions, market scanners, portfolio management, etc.
Brand: ease of accessibility
The bots and services were designed for professional traders. So, it will be hard to use them for people who don't have proper trading or coding experience.
Supported exchanges
The crypto bot supports the following exchanges: Binance, Binance Futures, Binance.US, Bitfinex, BitMEX, Bitpanda Pro, Bitstamp, Bittrex, ByBit, CEX.IO, Coinbase Pro, Deribit, FTX, Gemini, HitBTC, Huobi, Ionomy, Kraken, Kraken Futures, KuCoin, OKCoin, OKX, and Poloniex.
Strategy: undisclosed
Unfortunately, the information on trading approaches is not disclosed.
HaasOnline interface
The system's user interface is user-friendly and thus, it's easy to navigate even for beginners.
HaasOnline company overview
The company was founded in 2014.
Time in business
There are the following people in charge: Stephan de Haas–Chief Executive Officer, Quintus de Haas–Chief Technology Officer, Josh Becker–Chief System Operations. Rustim Rhoda–Research & Development. Raynaldo Rivera–Chief Communications Officer. Jeff Vernon–Chief Marketing Officer.
Security
The service allows us to work on a cloud and store API keys there.
Service cost
So, the offer is divided on the several packages:
We have the Beginner package for 0.009 BTC for a year. This allows us to save 0.007 BTC. We can rely on the following features: 10 active trading bots, backtest and paper reading, access to 11 endurances, 10 safeties, 20+ indicators, restricted core features, unlimited fees free trades, access to 22 exchanges. There's support provided via a chat.
The second pack is the Advance package and we can subscribe to it for 0.016 BTC. This will save us 0.008 BTC annually. There are extra features provided: 20 active trading bots, backtest and paper reading, access to 13 endurances, 20 safeties, 40+ indicators.
The ultimate package costs 0.026 BTC annually. We can save 0.01 BTC with it. There are unlimited active trading bots, backtest and paper reading, access to unlimited endurances, safeties, indicators provided.
We shouldn't rely on a refund policy with this package.
Are there any fees or commissions with HaasOnline?
No, there aren't.
Does HaasOnline have an API?
Yes, it has.
HaasOnline: performance metrics
We do not know how it performs and there are no trading results provided.
What kind of support options does HaasOnline offer?
The developers provide in chat support. Also, we can write emails to them if this way is more comfortable to us
Reviews of HaasOnline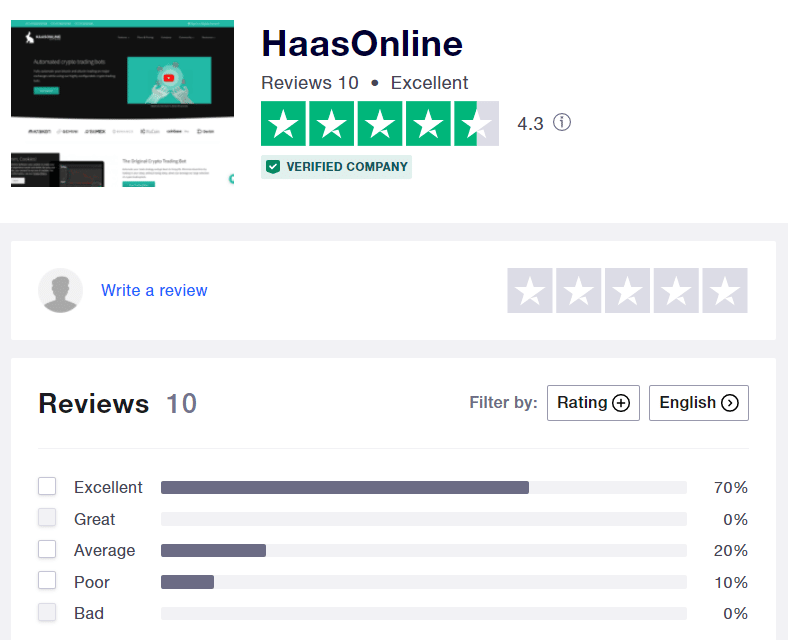 There's a verified profile of HaasOnline company on the Trustpilot site. Transparency increases a level of trust to the system. There are ten testimonials written that formed a 4.3 rate.