The technological advances that the cryptocurrency industry presented to the world are probably still inconceivable to most people. Some of us are still trying to understand what cryptocurrencies are and how it works.
Things happen rapidly in the crypto sphere, and to keep up with this pace, exchange platforms have to adapt their product offerings. At the same time, the crypto markets are vulnerable to a wide variety of cybercrimes. Many incidents of defrauding individuals of their valuable crypto via ransom or accessing their private keys occurred in the past.
Therefore, making sure your money and personal information is kept safe and secure is not only the platform's responsibility, but as users, we have the power to choose the best and most reliable products available.
Ledger developed robust crypto wallets, enabling high-security levels to keep users' crypto assets safe and away from criminal eyes. If you are serious about keeping your funds safe, you must read further to learn about the Ledger wallet.
What is the Ledger wallet?
The Ledger journey started in 2014 when eight experts from various industries ranging from cryptocurrencies to embedded security came together and created a platform for secure blockchain solutions.
Ledger has clients in over 200 countries, and they have sold over 3,000,000 hardware wallets. Ledger developed two hardware wallets:
Ledger Nano S
Ledger Nano X

We like
Private keys stay on the device and are not accessible via a browser like hot wallets through crypto exchanges.
The storage of over 1,800 coins and tokens on the Ledger Nano X device.
You can grow your coins by staking in Ledger Live.
The Nano X model is Bluetooth-enabled to connect to your smartphone.
Up to 100 apps are available on the Ledger Nano X model.
We don't like
Ledger Nano S requires a USB cable for mobile connectivity since it lacks Bluetooth functionality.
The Nano S model only has six apps which provide less storage for crypto.
The device has a small display screen and lacks touch screen ability.
Users have complained that the device is not mobile-friendly.
A Ledger security breach in 2021 whereby 1 million users' data fell into criminals' hands via hacking.
What is worth knowing before you start?
1. Ledger wallet functions
Hardware wallets allow the storage of crypto on a secure device. Furthermore, the private keys stay on the device, and access is impossible except for the user. Users can buy, exchange, sell, or grow their crypto assets while holding them in the hardware wallet.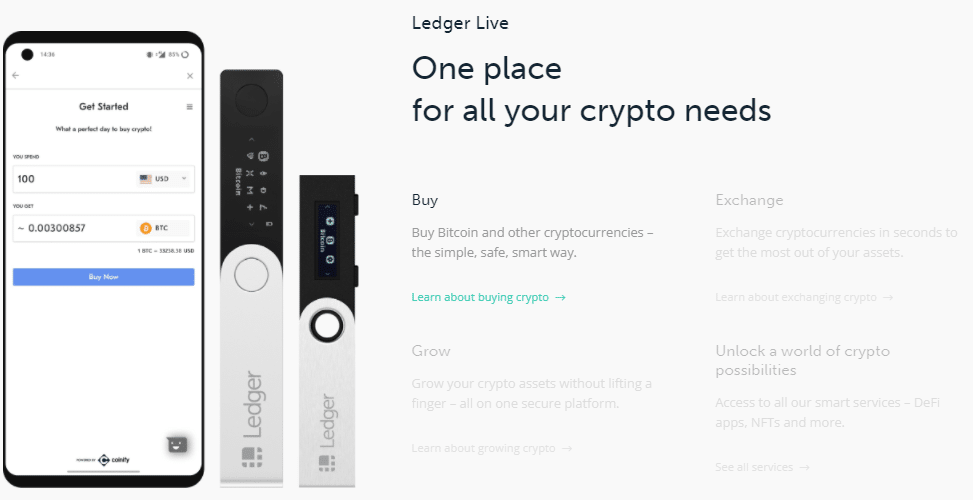 2. Ledger wallet features
It offers two models: Ledger Nano S and the Ledger Nano X model. Each model has distinct features and offers different benefits.
The best-selling model of Ledger is the Nano S, having over two million units sold. The Nano S model has six apps installed to support over 1,100 crypto assets. Furthermore, users can manage over 1,800 crypto assets via the Ledger Live app. The Nano S is compatible with over 50 wallets.
The wallet is also independently certified by ANSSI. In terms of securing access, it requires a pin code and a 24-word recovery phrase. The dimensions for this wallet are 56.59mm x 17.4mm x 9.1mm, and it weighs 16.2 grams.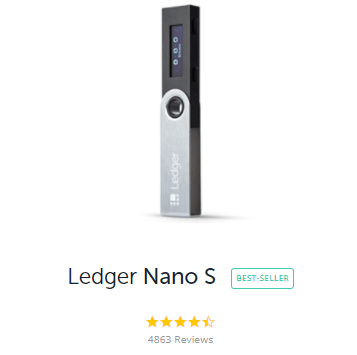 This model is the latest creation from Ledger, and it has the capacity to install up to 100 apps that are compatible with 1,100 crypto assets. Users can manage over 1,800 tokens via the Ledger Live app from a computer or smartphone.
In terms of hardware, the wallet is Bluetooth compatible with a mobile device. The screen is 128 x 64 pixels in size, and the battery can last up to 8 hours.
The Nano X is slightly larger than the Nano S, and its dimensions are 72mm x 18.6mm x 11.75mm, with a mass of 34 grams.
3. Ledger fees & pricing
These wallets offer different features, and therefore they vary in price. The Nano S model sells for $59, and the Nano X sells for $119.
No other fees are payable, except for transactions on the apps when converting coins dependent on market rates.

4. Ledger wallet safety
Ledger security features are the main reason why people opt for their hardware wallets. Ledger uses advanced security protocols, which even supersedes industry standards. The platform utilizes Common Criteria (CC) EAL5+ Secure Element (SE) certified chips on the hardware wallets. This ensures users' private keys remain on the device itself and cannot be accessed via a computer.
Furthermore, Ledger uses a proprietary operating system known as Blockchain Open Ledger Operating System (BOLOS).

5. Ledger wallet alternatives
It offers an exchange-based crypto wallet that has robust security features like two-factor authentication. Because it is a Binance product, the platform keeps cryptocurrencies in cold storage. The wallet supports many functionalities like exchanging, storage, and transfer of cryptocurrencies.
It is also a hardware crypto wallet that allows users to store Bitcoin, tokens, keys, and passwords. The Trezor Model T is available for purchase at €164. Furthermore, they offer back models to secure your cryptocurrencies.
The ShapeShift wallet allows you to send, receive, exchange, and store crypto. It is a non-custodial wallet that supports multiple blockchains. The wallet is available as an app for mobile or desktop.
Is the Ledger wallet worth using?
These wallets are among the top-rated hardware wallets in the crypto industry. Despite the hacking attempts on the platform, users will be pleased to know that external parties have never infiltrated the hardware.
Ledger developed their wallets with robust security measures. They are the only hardware wallet provider that uses Secure Element (SE) certified chips, giving them a further boost in safety. Their wallets are competitively priced, and the design is compact but aesthetically appealing.
Users who hold many crypto tokens will find the Ledger wallets ideal since it supports over 1,000 cryptocurrencies.
Final thoughts
Hardware wallets offer users the convenience of keeping their crypto assets offline and are becoming a preferred trend. Too many hacking attempts of popular exchange platforms are deterring users from keeping their crypto in software wallets. Cybercriminals are using clever ways to bypass these systems.
Therefore, it might be worth your while investing $50 to $100 in a hardware wallet rather than risk losing your valuable crypto.