With the increasing awareness regarding investment benefits, many institutions and platforms have introduced handy investment apps with innovative features. Beginner-friendly, low-cost, and easy-to-use apps have subsided the hurdles for young investors to dive into the investment sphere.
Moreover, a competitive financial environment has stimulated the development of novel and unique savings, investment, and trading apps.
So, are you a young and new investor looking for a reliable and unconventional investment platform? Then, read this review to learn about the working of micro-investment apps and numerous attributes of the Stockpile investment app, famous for its gift cards.
How do investing apps work?
Investing apps ensure the investment of your funds in diverse stocks, ETFs, ARDs, commodities, or cryptocurrencies. The methods for fund deposits vary from app to app.
Some investment apps use spare change deposits, while others utilize fixed deposit strategies. In addition, some of the platforms provide automated services such as automatic portfolio development and investment.
Stockpile is an investment and online brokerage platform that allows users to buy fractional shares for investing or gifting.
Reason to use for investors
Micro-investment apps provide individuals with an opportunity to develop investing habits without the requirement of significant deposits. Moreover, most investors prefer low fees platforms to gain maximum benefit from their investments.
Nowadays, most investment apps incorporate many account types on their platform, including basic investment accounts, retirement accounts, kids investment accounts, and rollover 401(k) facilities.
The option to buy fractional shares is an essential feature of most investment apps like Stockpile. This trait allows investors to buy stocks or ETFs befitting their budget.
Suppose you want to buy an Amazon stock, but the share price is around $3000, well above your budget. However, you can buy a portion of Amazon stock through Stockpile at your specified price. In this case, you can purchase a fractional share of $50, $100, $500, or whatever price you want.
Features of Stockpile app
Before deciding about using this app, you might want to know about several features and limitations of this platform. Here, we have unfolded some of the vital and primary components of Stockpile.
Cost
The app is entirely free to download. It is available on the web platform as well as google and apple stores. In addition, there are no minimum deposit amounts and hidden charges for using the app.
Fees
Stockpile has been charging no trade commissions or gift card fees since July 2021. This initiative has captivated young traders and investors to utilize the platform more avidly.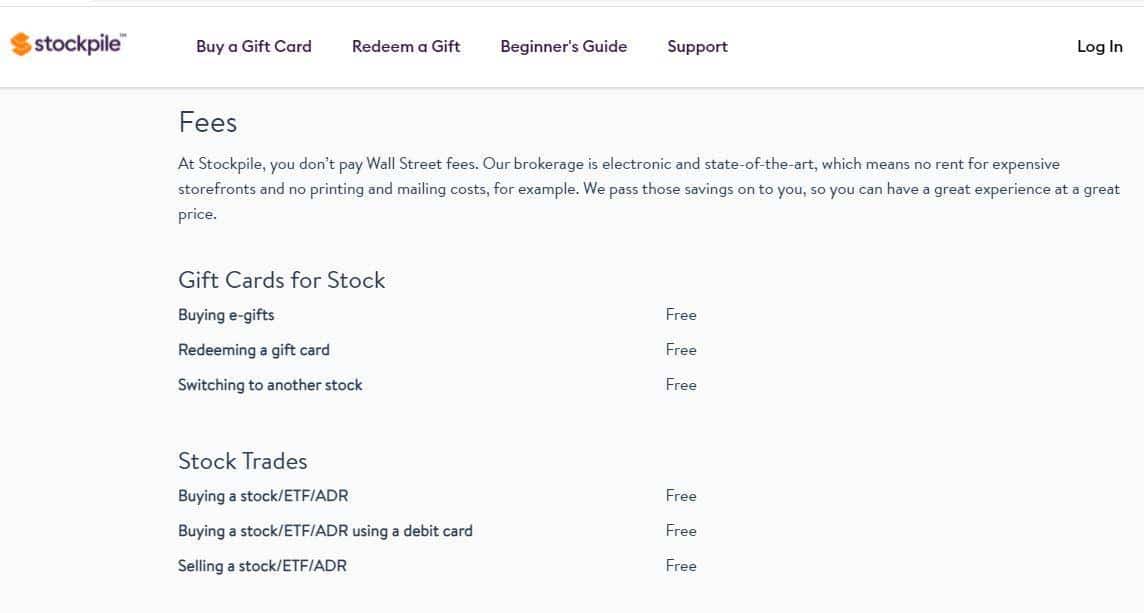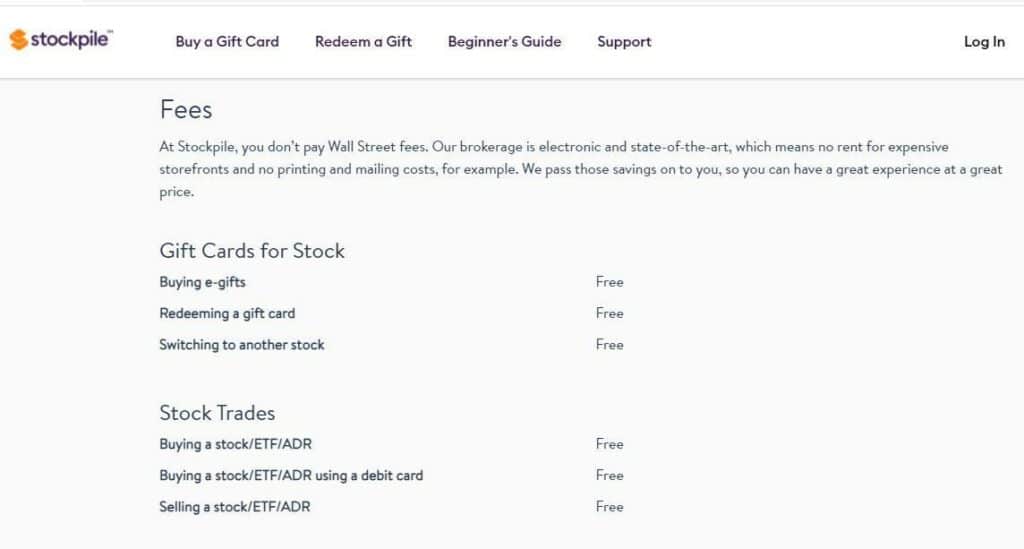 Now users can send gift cards without any additional fee. The only fee Stockpile has mentioned on its website is the domestic (US) wire transfer fee of 25$. However, users can evade this fee by using other withdrawal methods.
Reasons to get this app
Stockpile allows the trading of thousands of stocks, ETFs, and ADRs. You can choose your desired financial security by simply searching it by name, stock symbol, or company name. In addition, it permits users to request new stocks or ETFs not already present in the list.

It is an excellent app for introducing your friends, family, or children to the investing sphere by giving them stock gift cards. You can select an e-gift card or physical gift card from thousands of stocks or ETFs.
Stockpile Gifts Inc. is the company that issues gift cards with no expiration date, and the recipient can redeem gifted stocks at any time.
Moreover, Stockpile accommodates a "custodial account" that authorizes parents/guardians to hold stocks on behalf of the child. The platform provides a convenient and legal way to invest in stocks or ETFs in the child's name.
Furthermore, it has a comprehensive educational blog called "The Ticker" aimed at millennials, rookies, parents, and teens. There are detailed "How to" guides related to investing, spending, and saving. In addition, the blog lists various articles about cryptocurrencies and IPOs that are currently not a part of the Stockpile network. You can also find numerous quizzes, learning guides, and a stockopedia at the Stockpile Ticker.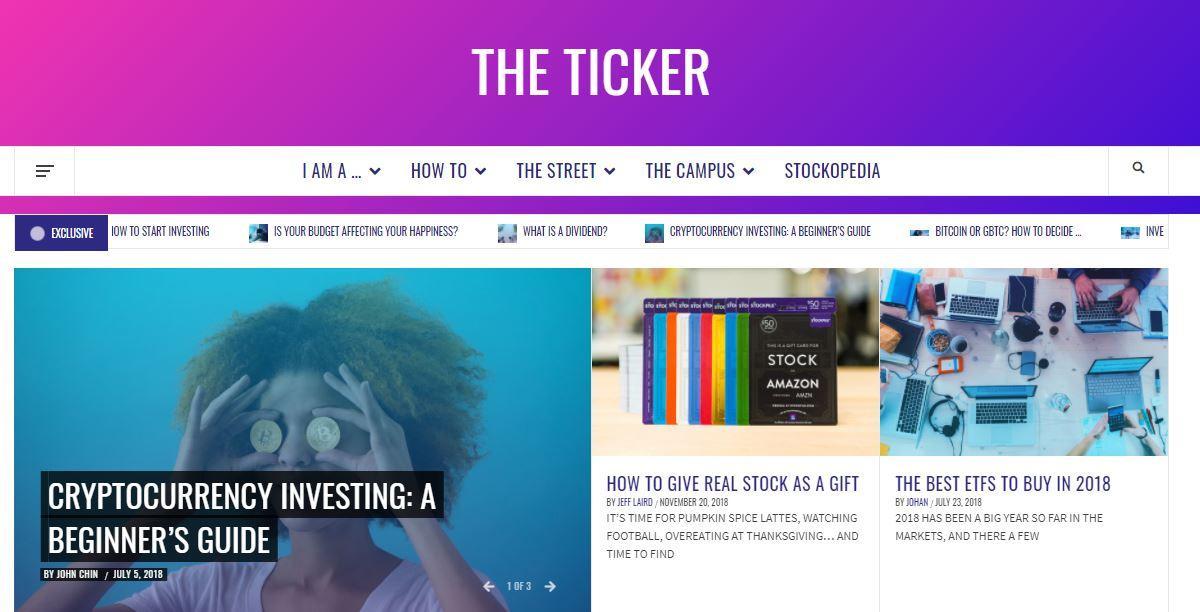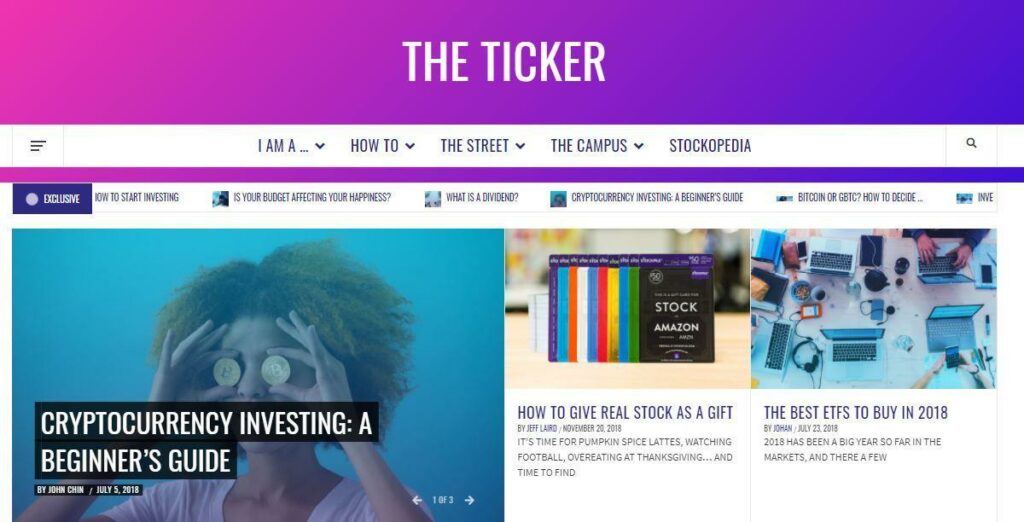 How to use Stockpile?
The platform is relatively simple to use, and it maintains two basic features.
Basic buying and selling of stocks
Stockpile works as a standard online broker for the trading of stocks and ETFs. The platform offers a basic trading platform that is suitable for beginners or long-term investors. However, active day traders and experts may find the platform limiting as there are no advanced trading tools, charting methods, and detailed research or analysis options.
Moreover, at Stockpile, you can buy fractional shares of stocks or ETFs according to your defined price. Currently, the platform does not allow the trading of penny stocks or shares below $3.
In contrast to the traditional brokers, Stockpile does not execute market orders immediately. Instead, it places all orders at one time during the day. Due to this delay, investors cannot get their desired market price of the stock.
Stock gift cards
It is the best investment app for sending stock gifts to your loved ones. You can purchase physical gift cards for $25, $50, and $100. However, the e-gifts can range between $1 to $250.
The recipient can redeem the gift card on only Stockpile as the gifted stock is the security of Stockpile brokerage. The receiver can also opt to redeem their gift to a different stock by logging into their account and clicking on the gift card > redeem > let's go > change.
How to open an account?
The app is only providing its services to US citizens. Opening an account with Stockpile is simple and easy.
After clicking on the sign-up button, you need to provide your personal information and link to an email account. Afterward, the platform will ask you to connect your bank account to the investment account.
The layout is straightforward with auto-deposit, buy stock, invite friends and buy gift card options.

How much could you save for one year?
The golden rule of investment is to hold your shares over a long term to acquire maximum capital gains. Your saving amount depends on your initial/monthly deposits value, duration of investment, and selection of stocks or securities.
Stockpile is a reliable app for passive investors, and a moderately conservative approach can grant you an average of 6-7% investment return per annum.
Pros & cons
Investment carries its risks and advantages. Let us look at the various pros and cons of the Stockpile investment app.
Pros
Cons
Gift cards
Stockpile gift cards allow users to buy and send stocks as gifts.
No real-time trading
Real-time trading is not available, and orders get placed at one specific time.
No fees
There are no trading commissions, annual fees, or other charges.
Redundant research tools
Stockpile does not have advanced charting, analysis, and research tools.
Fractional shares
It allows its users to purchase various fractional stock shares.
Limited account types
No retirement accounts or UGMA/UTMA account options.

Final thoughts
It is an appropriate and befitting investment app for new investors who prefer a simple interface and basic trading design. Furthermore, stock gift cards are the hallmark of this platform and are a great way to introduce investing to your kids.
Advanced traders may find the available Stockpile tools and delayed order execution to hinder their trading activities. However, it is an appropriate and reliable platform for many new investors.